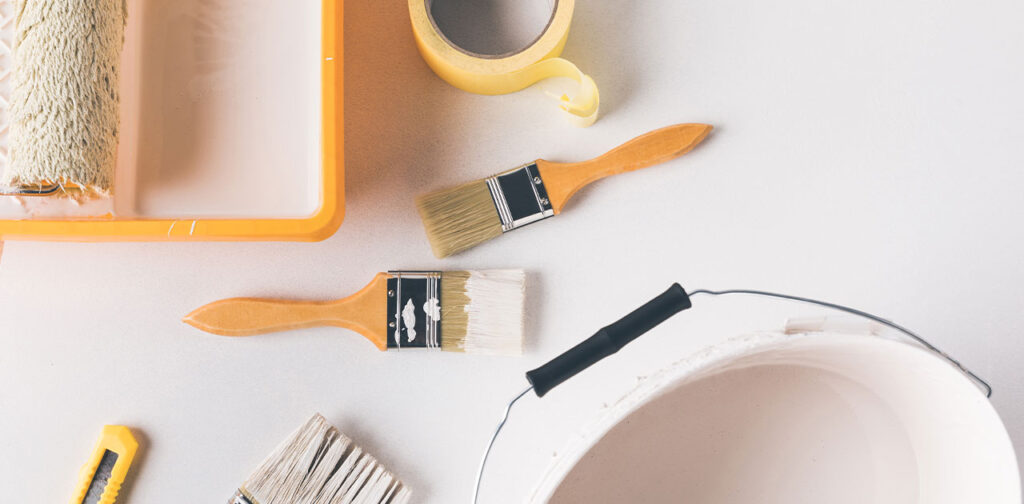 Ask Woodiwiss: How often and when should I paint my ceiling?
How often should I paint my ceiling? You should paint your ceiling with a fresh coat about every ten to fifteen years. And it's best to paint your ceilings at the same time as the rest of your interior walls since the paint job requires moving furniture and obstacles out of the way. It's best just to do it all at once.
There are some caveats by room, tips for painting your ceiling DIY or with professional painters, and stylistic choices you can make to help along the way.
So, which shade of white would you like?
Ceilings typically come in white or some variation of white like an eggshell sheen. That's because no one wants to draw attention up. The subject of a room is always on the people, things, or furnishings inside the room.
When you decide on a new ceiling paint job, try matching it with these other elements:
It's not just en vogue right now; it's always been a great idea to paint the trim and frames to match the ceiling. If you have crown molding, even better and even more reason you should paint everything the same color.
Interior walls fade faster than ceilings and use different paints
High-quality paint lasts the longest, but scuff marks, sun exposure, and foot traffic harms interior walls. Luckily, not even the kids' bedrooms likely suffer foot traffic on the ceiling.
You might paint your house interior twice as much because of how much traffic they get, but if you decide to DIY paint your ceiling, know that wall paint is different from ceiling paint. For one, ceiling paint has a higher viscosity and drips less.
Quite a few years back, we worked on a paint job where the house interior had significant water damage. The finished product required several coats of paint and by the third time we had it painted and looking beautiful.
But a ceiling rarely requires repainting with even a second coat. That's because it's easier to get an even finish with ceiling paint. The high viscosity also supplies a broader, fuller coverage in one coat than wall paint. Assuming you have no significant damage, even long-present stains and discolorations can get covered with much less effort.
This doesn't mean you should use ceiling paint on the walls. Wall paint is easier to clean and wipe down. Which is just what you need for living rooms, dining rooms, bathrooms, and even laundry rooms where a bit of rogue detergent can be wiped down easily.
Kitchen and dining room ceilings get the grimiest
Kitchen walls are an obvious target for grease, splatters, food, water, and … is that spaghetti sauce?
But have you ever looked up at your ceiling? Seriously, stand by your stovetop and look up. The ceiling probably has discoloration in weird spots, maybe some yellowing by the vents or kitchen cabinets, and might even look kinda gross.
And depending on where your dining room is, a lot of that kitchen damage wafts into the dining room. Don't believe it? Go wipe down the light fixtures in your dining room and see how sticky they are.
A fresh coat of paint will brighten that space up and make it look less grimey. Open floor plan home interior walls where the living and dining rooms merge may have recognizable spots closer to the kitchen, too.
Your bathroom ceiling takes a lot of heat and humidity
Not surprisingly, your bathroom shows more signs of needing a new coat of paint than just about anywhere except maybe the kitchen. Vent vans draw moisture from hot showers and baths into central spots, and humidity clings to the walls and focuses the sun at intense angles. Dust is "washed" and moved around in weird ways in the bathrooms, too.
Frequent painting with quality paints can help protect against warping and distortions, too.
Hiring professional painters for a fresh coat is way safer
Unless your walls are unusually tall or vaulted, most people understand how to paint their walls and don't have to do it from ladders or specialized equipment. Just grab a brush and maybe a rod and go.
Ceiling painting almost always demands ladders, which brings safety hazards. Ladders are the sixth most common OSHA workplace violation hazard. Over 2,500 violations are issued each year, with another 6,000+ for lack of fall protection or other height-related hazards. Working with ladders is actually kinda dangerous.
When you hire professional painters like Woodiwiss Painting, you're removing that risk of injury. Not to mention spills and the need to learn how to hold a paintbrush upside down without it dripping everywhere. We've seen some ceiling paint jobs where more paint got on the walls, trim, and floor than the ceiling. You also don't have to worry about prep work, like placing masking tape around hard-to-reach borders and edges.
Talk to us about your ceiling paint job
If you're looking for an excellent job or a new paint color, our extremely professional painters and paint consultants can help. Homes around Walnut Creek, Orinda, Danville, and much of the East Bay, near the I-680 Hwy corridor, can get a free estimate. Call (925) 595-3081 or email [email protected].
We recommend painting everything all at once to reduce disruption. If you're considering new paint colors for some spaces or piecemealing other rooms like a master bedroom or hallways, go look up and consider your ceilings, too.