Tips for choosing a front door paint color
"Curb appeal matters, and from a curb the focal point of any home should be the front door," says Walnut Creek real estate agent Valerie Vicente." If you need to switch up or refresh one thing on the outside of your house fast, it's the front door."
Valerie is right. The front door acts as the "first impression" of most homes. Your home's exterior might compete against the neighbors, a large tree, playground equipment, or landscaping, but none of that can get switched out or replaced in under a weekend like changing the front door color.
Choose a front door color that works for your neighborhood and style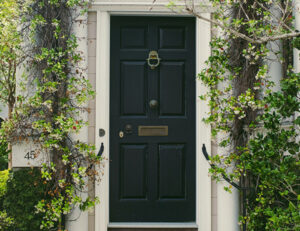 It was en vogue in the 70s and 80s to paint the front door rich brown tones that, under almost every condition of natural light still looks brown to most people. It might not be evident to you or everyone else, but there's a subtle hint that the home is dated when you leave it brown.
You can step up home's appeal against the neighbors by choosing a unique door color. As a design element, the front door is like nothing else around the house—inside or out. You can get away with a bold color like bright blue on the front door because it's so singular and free-standing.
Just be sure to pick a door color that works with the character of your neighborhood. If your neighbors all have light green or light blue doors on white or beige house exteriors, but your house has dark blue siding your exterior colors demand a different choice.
Local regulations usually dictate home colors in some communities, but almost none declare standards for the front door.
If your front door has a storm door attached, consider replacing it with a large glass front. It'll show off the door without obscuring it behind a black screen door. And since most cheap storm doors are white or black, if you can't change it or don't want to, coordinate your colors with that in mind. 
You'll also want to coordinate the door color with window frames and the floor or walls of your porch, if you have one. A dark porch shaded by many trees or a steep roof can make a front door painted yellow seem right at home.
Remember, too, the inside of the front door doesn't have to be the same color. The inside door color should match the personal style of your decor and interior.
Pros and cons of a blue, yellow, red, and green front door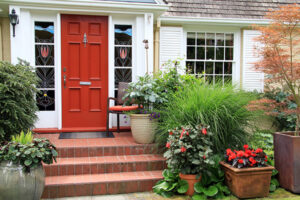 Classic front door colors that are popular and in style right now are red, yellow, and green. If the house exterior is white, cream, or any neutral shade, almost any color will work on the front door.
You can use a color wheel online to play around with various "mathematically calculated" colors to help you ensure the right contrast. If your home's exterior color is more profound, like a navy blue, brick, or green, consult a color wheel for a contrasting hue. You'll need to get with a paint consultant to match that to a real paint color, however.
Go for red, orange, or yellow if you want a door color imbues intensity, energy, and brightness. 

A red door will fade faster than any other color because of its low wavelength compared to the sun's UV rays. Be sure to get a good exterior primer and a high gloss paint that adds weather-resistant coverage.

A green house with a green door, green bushes, and green trees is overboard on a monochromatic color scheme. Instead, consider a stark white door, a red door color, or an intense bright yellow for the front door. 

If you're wondering: lime green—like a neon lime green—isn't trendy in any condition.

Blue is a great way to add some calm to your front door and works exceptionally well if your neighborhood is near the ocean or water. A light color will add a nautical element to a White House, whereas a deep navy blue front door can complement almost any architectural style and color.
Door colors should be inviting, and if the inside of your home is full of muted shades, a bold shade or bright color on the front is a great way to have one totally different spot.
When to choose white, gray, or the same color as everything else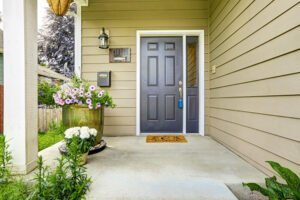 Bolder shades and trim colors aren't everyone's style. Maybe you have vibrant shades of dark colors on your trim and gutters that match your house's exterior, or the focus is on something else like a robust garden. A gray base works well with just about any color and adds a sort of "neutral accent color" that can still have shades of contrasting color in it.
You might choose the same color as the rest of your home if you have many traditional grain patterns in exposed wood, brick, or other natural elements to highlight instead.
And if all else fails or you want something to serve as a bit of built-in rust protection for, say, a garage door, go with white. Nothing reflects the intensity of the sun better than white.
"Neutral colors can make a lot of sense if the inside of your house is really exciting," says Valerie, the Realtor in Walnut Creek. "Whatever makes guests smile as they walk up and walk in the door."
If you need help choosing the right paint to match the architectural details of your front door and want a little more insight into curb appeal, we can help. Talk to one of our paint consultants about your home's exterior paint and door color.