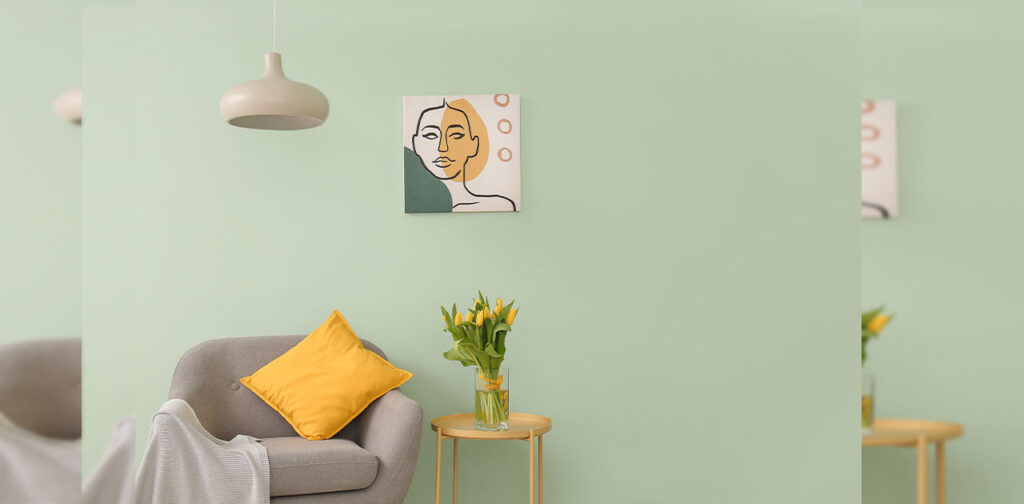 How can I paint a room for an adult with dementia or Alzheimer's disease?
Dementia patients suffer a loss of cognitive abilities and memory. Alzheimer's disease also induces memory loss and as both progress, memory care patients are at risk of confusing objects for things they're not, wandering away, loss of spatial awareness, and all the other trappings that come from the loss of cognitive functions.
So when adult children learn a parent or loved one is diagnosed with dementia or Alzheimer's, many try to house them in their homes to keep them out of memory care facilities. And the most concerned start searching for ways to give the best care and wonder, "What can we do to help them the most?" 
We've had customers ask us about paint colors for memory care and dementia patients. The research on this is limited, to say the least. There is some science behind a color palette of a room and the effects on the room's owner and their mood. Hospitals and schools, for instance, routinely rely on greens or earth tones, like blue sky patterns, to calm people of all ages and personalities down. 
This is about where the science of paint colors ends. In truth, the color palette of a room or home is better served by thinking of the accessibility of that space. This can help children with cognitive development issues, people with dementia, and older adults who may be losing some of their vision navigate spaces and enjoy feelings of comfort and home.
Add or subtract depth perception with different colors
Different spaces can be highlighted in starkly contrasting colors. If your dining room flows into your kitchen with an open floor plan, painting the walls in the dining room darker or lighter than the kitchen can help distinguish the two rooms. 
Painting exit doors (or a front door in a home) the same color as the surrounding walls can also prevent people with dementia from walking out of them. Whereas painting a bedroom door a starkly different color from the surrounding walls can help them find the door.
Use sharp, contrasting colors against fixtures, too
A white toilet against a white wall is difficult to discern for dementia patients. Instead, use sharp, contrasting colors to make white toilets, showers, and sinks easily distinguishable. 
Likewise for bedrooms, where a wooden bed can contrast against a much lighter wall to distinguish its form and shape.
Light colors and neutrals are usually the safest options for most rooms — both in how pleasant they are to look at and the options they provide with the room decor. However, bright colors can help uplift a person's mood, and dark colors may make a dark room seem darker. And depending on the resident, that may be beneficial. A bright yellow, for example, might not be your first choice for a bathroom. But it might remind someone of a beloved pet.
Most of our understanding of color theory would suggest oranges and reds might induce anger or frustration. Everyone is different, however, and a person's mental well-being may be well served by using "non-traditional" colors. For instance, red may be a person's favorite color. Or, it may remind them of a workplace, suggesting to them they're where they need to be during the day.
Imitate memory care facilities where possible
Memory care homes often use color selection as placemaking and way-finding in common areas. For instance, a long hallway with multiple rooms may use small foyers painted different colors — like light green, light blue, and a creamy brown — to alternate and contrast between repeating architectural elements, like the end of a hallway.
This, however, is likely challenging in a typical home. Senior living by necessity has multiple rooms, all with repeating patterns and layouts in long hallways. Your house also likely does not have a cafeteria or activity rooms. You can, however, differentiate doors without painting them dramatically different by using artwork or paint-safe decals.
Memory care patients may be helped by other colorful additions
A black mat in front of a door has been shown to prevent residents walking off or dementia patients from wandering down stairs on the presumption they perceive it as a hole.
Alzheimer's patients living in rooms that match their favorite colors or themes — like their long-time home — can stimulate memory. This leads to a significant impact on their well-being and happiness. 
Having a person's own things — such as purses, hats, ties, shoes, knick-knacks, awards, or other items can help an adult sense they're home or someplace safe and not in someone else's bedroom.
Murals and paintings hanging on a wall can also act as wayfinding points and differentiate rooms. Some children and dementia patients may also get value from art therapy where they help create paintings or artwork that hang in specific rooms. For instance, they may be confused by the location of a bathroom, or even what the bathroom is, but may be reminded after seeing a painting on the wall.
Painting for dementia patients is only a small step, but it is a step
Dementia care is incredibly challenging for everyone. As dementia progresses, a person's needs and moods might change. What was a calming color may soon remind them of unpleasant memories. Memory care may change with the seasons or even the time of day, too, which is why having distinctly different paint colors in different rooms may help.
But no paint color can alleviate the demands, stress, and needs of the patient and loved one. Paint color may marginally increase safety or provide only modest comfort. In many cases, any comfort it does provide may be to the providers who are more attuned to the space than the dementia patient. 
If you're interested in talking to someone about options here in the East Bay area, we can help you start searching for the right colors. Before considering options, we recommend you talk to a physician or a professional familiar with care environments for your loved one's specific needs.