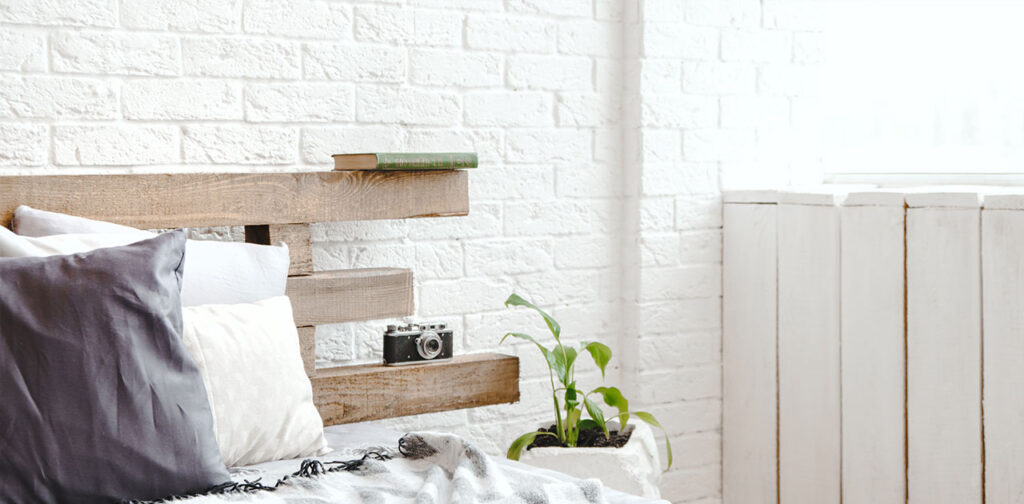 Here's how professionals paint brick walls and fireplaces
Painting an interior brick wall or brick fireplace may be the most controversial painting decisions we encounter. Most people strongly disagree on whether you should ever paint brick. Plus, once you paint brick, you can't ever restore it to its original state. Brick is a porous material and painting it is virtually a final paint job no matter how hard you try to remove it from the tiny cracks and indentations.
But if your original brick is simply not to your liking — and yes, for many, the color of a brick surface might not be to their liking, we're not here to judge — painting a brick wall white, black, or some other color can dramatically change a room.
To be clear, we're talking about interior brick walls and fireplaces. Exterior brick requires more prep work, like pressure washing, and painting them with a paint sprayer is necessary to achieve a uniform look. But interior brick, while still a big job, is more manageable.
Pro painting tips we follow before painting an interior brick fireplace or brick wall:
Always clean the wall with a wire brush and a mild cleaning solution likejust soapy water.

Use twice as much paint, primer, and cleaning solution as a similarly-sized non-brick wall.

Brick walls around fireplaces require more cleaning to remove soot and smoke stains.

The gaps around the bricks need to be filled with acrylic caulk.

Any damaged, broken, or discolored bricks should be investigated carefully because painting brick can cover up the problem and trap moisture inside that led to it.

Prepare everything with painter's tape, tarp or sheets, and protect the heat pad. The space in front of the fireplace is equally porous, and dripping paint adheres quickly.

Let the paint dry completely before applying a second coat. Two coats will be necessary.
These tips apply to brick, so inspect your fireplace surround to make sure it's not some variant of stone, rock, or faux-brick surface.
You can use a roller or brush to roll on any paint color. A stiff bristled brush can easily poke into the cracks and crevices. But a paint sprayer is the most uniform and easiest method when a room is empty. But depending on the size of the wall and the space available, we stick with rollers and brushes. 
Regardless of how you apply the paint, you'll need multiple coats. 

You can reduce small cracks and chips by sanding with medium-grit sandpaper before painting.

A stiff wire brush can also clean inside tiny cracks where debris collects. 

Never paint wet brick, damaged brick, or on top of paint damaged by time or heat.
Use semi-gloss paint on the brick around a fireplace
Choosing the correct paint is critical. Go for latex paint or chalk paint with a semi-gloss finish. They'll coat into the brick and work best in conjunction with a latex primer.
If you intend to use the fireplace with a real fire:
Make sure you choose a heat-proof paint that can withstand temperatures up to 250 degrees Fahrenheit on the exterior portion of the wall. 

On the interior brick in the firebox, where the actual fire is, you'll need a special higher-heat-resistant paint. This is why most brick fireplaces remain brick inside the firebox and people only paint the brick on the interior-facing wall.

Semi-gloss paints give you the best sheen that's easy to clean with a damp cloth and stain-resistant compared to eggshell finishes. High-gloss paints are also an option, but many people find them "too shiny" for a large brick wall.

Finish the mantle and undersides with a wax or lacquer to protect it from heat, soot, and debris.
If you intend to use the fireplace without a real fire or it isn't near heat:
Faux fireplace options include just about any paint since temperatures aren't an issue.

You could opt for staining brick on walls. Stain absorbs into brick nicely, giving a unique antique look by letting the brick's original texture shine.
Either go bold or go neutral when choosing what color to paint a brick fireplace
Most rooms with a fireplace built before the 1980s, and nearly every fireplace built before 1960, has a fireplace firmly planted as the centerpiece of the room with everything designed to look right at it. This design has been how people built homes since before pioneers settled in California looking for gold. The fireplace was the source of warmth, cooking, eating, and boiling water for bathing. After the 1980s, most home builders recognized that when people talked about "gathering in the living room," they really meant "Gathering around the TV."
Still, fireplaces draw attention. You can paint them warm colors like oranges, yellows, or reds to mimic the color of fire. Or, go neutral with white, black, and or variations of white. 
When people talk to our paint expert and realize how permanent the paint is, they tend to choose white. Like protecting curb appeal with neutral exterior colors, painting a brick fireplace or interior wall white is the best way to preserve home values if you intend to sell.
How can I paint over already painted brick?
If your brick fireplace already has a coat of paint that needs covering or repair, you can paint over it. Use warm water and a mild cleaner to wipe it down, try to smooth out the chipping paint with a wire brush or sandpaper, and make sure it's completely dry before starting.
The easiest method works by choosing a solid color similar to what's already on the brick. But if you're looking to make a huge difference in the room's color or mood, like going from white to black or black to white, you'll need to apply multiple coats, perhaps up to four in spots.
Is it possible to remove paint from a brick fireplace or wall?
Nothing's impossible with enough time, but removing paint from brick is a challenge because of the textured surfaces involved. It's a messy, time-consuming process most are not willing to undertake. If you're looking to restore a painted fireplace to its natural color, recognize that you may be revealing bricks in poor condition, too.
A pressure washer will be necessary — and yes, that's a challenging piece of equipment to use in a furnished house. Start by sanding, scraping, and bristling at the surface by hand, then when that fails to remove paint, don your safety goggles and turn on the pressure washer. 
This process is much easier, but only slightly, if you're working on an exterior brick wall because the water has a place to drain. But inside a furnished house, it's impossible. If you're gutting and restoring a home and can let the water collect where it may, you can try it and see if it works. At the very least, you'll know you removed every bit of dirt and can opt for repainting the brick. 
If you're tackling an exterior wall, remember painting exterior brick requires heavy-duty latex paint that can withstand the sun and heat.
We can help save you hours of prep and painting work
Give your living room a huge improvement with new color by painting the brick around your fireplace or walls. 
Our team of professional painters serves the East Bay Area and can help you choose the color right for your home, style, and taste. Plus, we'll do all the work to prep, sand, prime, caulk, paint, seal, and clean up. Contact Woodiwiss Painting to get a no-obligation quote or ask questions.