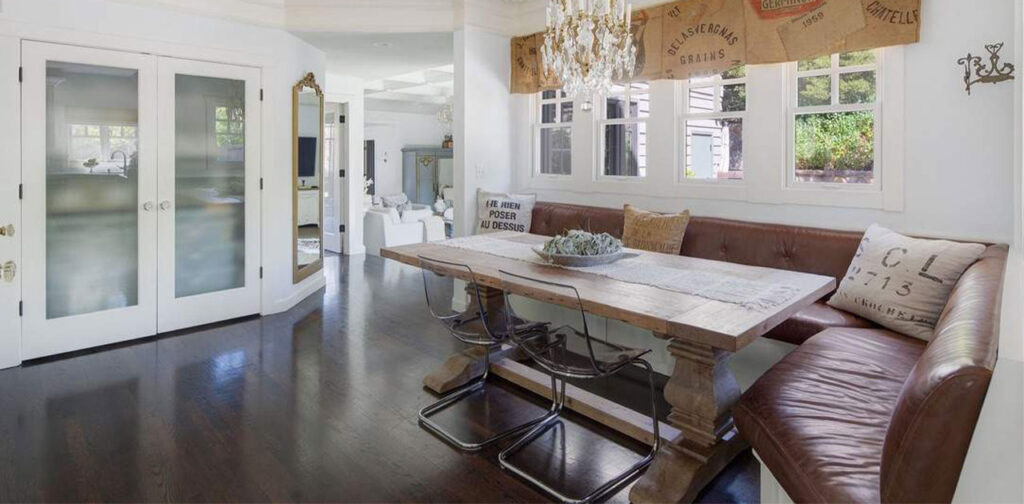 Ask Woodiwiss: "Seriously, how often should I repaint the inside of my house?"
You'll probably want to repaint the inside of your house every seven years. Less if you have kids and maybe even closer to 10+ years if you don't have kids and don't smoke.
Except when you don't. And there are some exceptions.
You might need a new paint job because your taste changed
We get it. You painted the living room gray. It was subtle, yet bold. It matched the couch.      Your husband liked it. And then your Great Aunt Fern and lifelong Walnut Creek resident died and left you that four-foot wide painting of the Golden Gate bridge she was so proud of and you just can't let it go. Except it's big. And orange. 
And then you let the kids help pick out a rug and they really liked the yellow one. So now it's time to make this all come together again. A new paint job can do that.
The weather outside can impact the paint inside your home, too
If you live near the bay, the salty air is a great way to cool down a room and let in the light from expansive sunsets over Mount Diablo or San Ramon. But it also introduces a small amount of exposure to salt to your existing paint job in your home interior. Over many years, this can reduce the luster and shine on your walls, ceilings, baseboards, and window trim.
Your home interior can withstand it for a long while with the right paint, though. Cheaper paints will be more prone to peeling.
Living and dining rooms need repainted more often than other rooms
You probably use your dining room, living room, and kitchen the most in the house. In that order, too, assuming everyone gathers around the dining room table for school work, a desk, a craft table, and the space where you open Amazon boxes.
And kitchen walls tend to be different because of the cabinets consuming wall space. They may or may not require their own paint job cadence.  More on painting and cleaning cabinets.
Your results may vary depending on the exact location and usage of common space. The living room being a place where most people relax and lay on the couch doesn't make for a lot of wear-and-tear on your walls. 
Except when it doesn't. Like that time the kids "decorated" or the dog took a turn too hard while wearing that giant cone. All these factors impact how often you should paint.
All of the paint jobs by Woodiwiss Painting are guaranteed to last at least five years.  This stems from two factors: one is using quality paint and two, having professional painters do it right the first time.
So depending on usage, you can probably get another five out of your living room and dining room if they're not as heavily used. 
Bedrooms last up to ten years, but the kids' tastes do not
So you painted the nursery blue because you were expecting a boy. And 15 years later your bright young man is not so interested in baby blue anymore or wearing those adorable booties. What worked in infancy doesn't fly when they're the star goalie on the Walnut Creek soccer team.  
When someone asks, "How often should I paint", you might have to keep up with your kids' tastes and moods as much as you do your own.
The good news is bedrooms typically don't see much wear and tear on the walls. And aside from young kids sleeping and playing in there, older teens and adults can get a lot of years out of a bedroom paint job. 
If you have young kids, you'll probably want to repaint every 3-5 years. Otherwise, expect to get at least 7-10.
The bathroom paint takes on a lot of responsibility
Bathrooms have to be tough. They're small, so they're relatively affordable to paint. But even a premium paint designed with gloss to repel condensation, heat, steam, and water can only last about five years in the best of conditions. 
Expect to repaint your bathroom every 3-4 years to keep the paint clean. One of the things that can help extend the paint in your bathroom is quality ventilation. 
What about ceilings, hallways, baseboards, and trim?
Your kitchen ceiling and bathroom ceiling are more often candidates for a paint refresh than ceilings elsewhere in the house. Grease splatters and just the film in the air after cooking and showering can take a toll. You might not even notice it since it's so gradual, but a fresh coat will make you realize how much luster it lost over time.
Hallways get roughed up simply by being narrow. It was pretty funny when your husband thought he could carry that chair downstairs all by himself. Right up until he chipped the wall.
Window trim and baseboards might need some help if they're chipped, but depending on your space that might be in really good condition. Often protected by furniture, curtains, and not being something that gets touched a lot, they can last a long time. You might consider a good deep clean on these instead. 
If you do decide to paint your home but don't want to do the trim, we'll do all the prep work to make sure your wood surfaces and trim are perfectly protected.
Ceiling or wall work, if necessary, might be a good time to work on your insulation, too. Our friends at All Seasons Insulation can help put in some new insulation. Since wall insulation requires golf ball-sized holes in the wall, we can paint those small repair marks so you never notice them,
Alright, you've told me how often I should paint. Now what?
You've got nothing to lose by getting a free estimate. Our professional painters and experts can show you all your paint options — in writing — so you can decide. 
And our professional paint consultants can help you match paint colors to that artwork your Great Aunt Fern left.