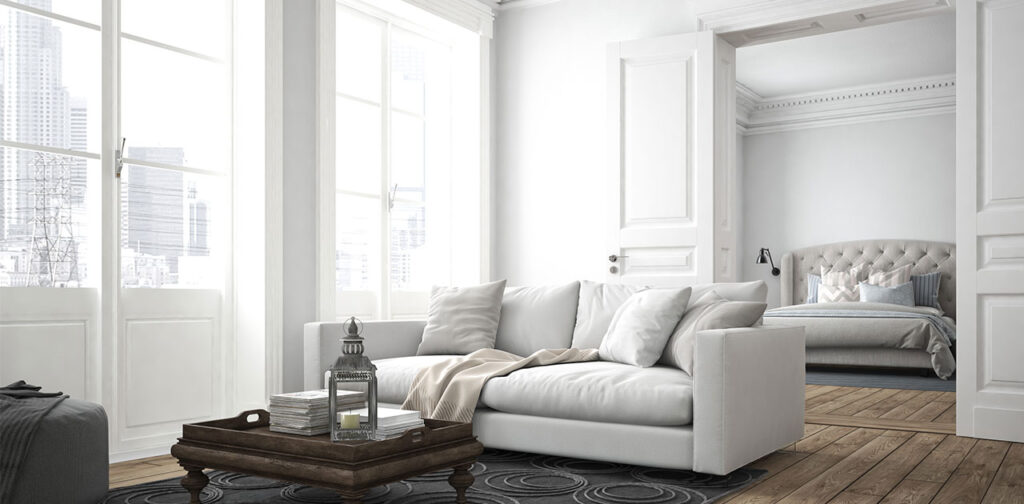 Ask Woodiwiss: "How do I touch up paint on walls?"
Unless you're using flat paint with a flat finish, or it's a small blemish in a corner, you probably can't touch up paint on walls. To get the best results, you'll need to use the leftover paint or get new, original paint that matches the wall as it is today and paint "break to break."  Meaning the whole wall from corner to corner, floor to ceiling.
If you try to paint a blemish, nick, scrape, or other bits of damage, you'll:
End up with a noticeable spot between new and old paint.

Notice the touch-up spot won't blend in well.

Find the surrounding paint color will appear slightly duller, usually from the age of the existing paint.

Realize it looks worse than the original blemish or damage.
Be sure the damage isn't just debris that's stuck on the wall. We have talked before about how to remove scuffs from walls because sometimes heavy debris—like from the rubber sole of a shoe—can come off with proper care. You can even use a soapy sponge to try removing gunk.
How long after painting walls can I still make touch-ups with leftover paint?
When you have freshly painted walls and tuck the spare paint in the closet, you have about two or three months before the leftover paint isn't going to help you anymore. 
That's because the paint on your walls will already begin to develop a thin layer of dust and sun damage after 60 or 90 days. Grease and oil that floats in the air—usually from the kitchen and fingerprints—also add up. High traffic areas often develop micro-abrasions from people walking by and bumping against the walls. 
The result is the surrounding wall is no longer the same color as it once was. The entire room is now a slightly different color.
Why is touching up paint so hard? Can touch-up paint help?
There are "touch-up paint" products marketed for small holes and other blemishes. But they don't work great. In rare cases they might do "well enough" if you have textured walls or a defect that's in a corner, behind furniture, or otherwise in a dim or dark spot. 
The reason touch-ups after any paint job is so hard is because the paint is made of dried solids. There are pigments mixed with latex to bind it. But 70-80% of what's in the paint can is water, which helps spread it on the wall. 
When new paint is applied, it goes on in a consistent texture and in a seamless blend because some of that water is absorbed into the wall — even on existing paint. There's uniform coverage after a few hours when you let the paint dry completely. But when you touch up paint on walls and in only a small spot, this absorption doesn't occur at the same rate. The original coat of paint existed in one set of conditions and the touch-ups in another. This is called the "wicking rate," Wicking and paint adhesion are seldom consistent or the same.
What's the best way to do paint touch-ups?
Get the best paint for the color it is today, not what it was
You can ensure a smooth transition by using either the same paint as before or chip a little paint off the surface texture. Your local paint or hardware stores should have the right tools for matching paint to your existing paint color. If your paint is over one or two years old or is in direct sunlight, in a bathroom, or in a kitchen, you should take a small paint chip the size of a poker chip in for matching. The larger the chip the easier it'll be for the paint store to match.
Use a putty knife to fill the touch-up area
Use a putty knife to spread some excess compound over the damage if your walls have a scratch, gash, or other indentation. 

Let it dry, then using fine grit sandpaper, sand it down until it's got a smooth finish to the touch. 

Use the same applicator or heavier grit sandpaper to ensure it's smooth.
Lightly wipe down the area
Using a clean towel or rag, wipe down the entire wall that's damaged. For more about ensuring a clean surface, read more about how to clean dust and grease off walls.
Once clean, use a latex primer on the repaired areas. It'll help your paint applicators, such as a brush or roller, do its job better and lets the paint adhere to the surface. This is especially critical if your original paint on nearby walls had a primer.
Start touch-up painting by painting the whole wall
Start applying paint from one corner to the next corner or "break" in the wall where it forms an angle and from the floor to the ceiling. 
As you begin touching up the area around the damage, ensure your repaired areas are dry and clean. 
The wall will benefit from using the same paint as you used before. Ensure you're using the same paint finish, too.
Sound like a hassle? Get any room repaired and touched up with Woodiwiss Painting
Accidents happen, so if it's time for your walls to get a few touch-ups, we can help in the East Bay Area. Our clients around Walnut Creek, Orinda, Pleasant Hill benefit from our decades of experience. 
Professional painters are ready to assess the damage and help you choose the right way forward, risk-free. Call (925) 595-3081, message us online, or email [email protected] to get started.