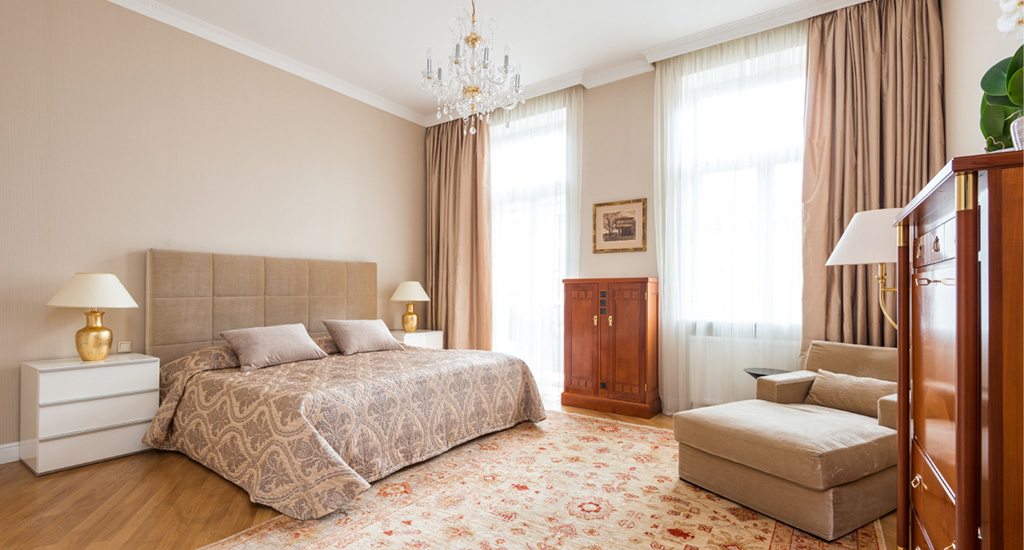 Timeless interior design for the elderly and aging gracefully in place
We have a lot to learn from people older than us. People who have lived longer give us insight into the past and future that sometimes we lack or just choose to ignore.
Seniors can also help us understand our current needs too. Few things matter in our homes and personal space more than comfort and creating a welcoming place to live, sleep, eat, and play. Elderly people have different home needs just as children or working adults do. But unlike child safety locks and Legos left for us to step on, the needs of the elderly can make a more user-friendly house for everyone.
For instance, sofas that aren't too tall benefit young and old alike. Having furniture designed with unexposed legs means everyone avoids stubbing a toe.
Problems arise, however, when design choices about the furniture, colors, paint, and style of a home stagnate or obstruct a room's intended use. The result is a mishmash of collected pieces and design decisions that hinder people's ability to age in place and force people to live in a dated time capsule. How many of us have grandparents whose houses still feature an orange couch with brown shag carpet from the 70s?
There are ways to create a safe, inviting house with timeless design ideas.
What is a timeless aesthetic anyway?
Timeless interior design is a series of choices that aren't tied to a specific era, design movement, or trend. For instance, shag carpet, textured walls and ceilings, tie-dye, and curvy furniture are all specific to trends and fads that have come and gone.
Timeless interiors are resilient, flexible, and adaptable to the time and the people living there.
Avoid furniture and decor that have a lot of ornamentation or flourishes. This doesn't mean every piece has to be from a Swedish furniture store, just that you keep the style reserved.

Choose furniture with clean lines and simple shapes. A chair should look like a chair, not a bean bag or curved piece of plastic and the cushions shouldn't look like a deployed airbag.

Daylight is never going out of style, so keep rooms bright with clear windows. Absent good natural light, prefer good lighting from stable lamps instead of overhead fan lights.
Floral furniture and rugs can be timeless and accessible
When people start thinking about "old-looking" styles, they think of floral print couches and seat cushions. These can work so long as the overall shape is good. Choose simple, upholstered seating, tables, and large pieces that have clean lines and subtle looks. Gray will always be a suitable choice over orange, even if it does sound dull on paper.
A rug is a great way to add interior design flair and draw focus down to the floor for homes with hardwood floors. Just don't skip the rug pad so it's non-slip. Make it low-pile, too, so it's easy to clean and easy to shuffle or roll over with a wheelchair. 
A good rug is an example of accessibility for older adults working well for younger people, too. Rugs can go in the living room, dining room, bedroom, and bathroom, and they make a cold floor feel warmer, look more inviting, and more comfortable to stand on. Durable, high-quality low pile rugs reduce noise and echo in rooms, too, and easily accent or complement the walls and paint job.
Bedroom interior design ideas for seniors with style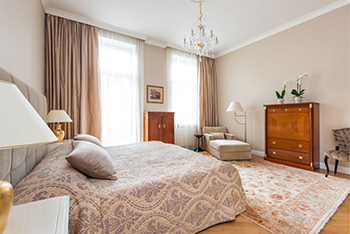 Like the sofa and chairs, choose a bed that sits at a comfortable height to accommodate transitioning from a wheelchair or walker. A good test is to sit on the edge of the bed or chair. If a person's feet can't reach the floor, it's too high.
Avoid platform beds since they sit low by design and headboards and legs with intricately carved frames and legs have pieces that jut out and are likely to stub your toes on in the dark. They're neither timeless nor functional. Move clutter and small items out of the way so wheelchairs, walkers, or canes don't trip, too.
Another pro tip: make sure the bed is close to a light switch. Light switches that are hard to reach in the night increase the risk of falls and light switches on the wall are easier to feel for than a lamp switch. If there's one room in the house that needs quick light, choose the bedroom. Wifi-enabled lights powered by Siri or Alexa can also help if a switch is far away or the space doesn't work with the bed nearby.
With any lamps in the house, make sure they have sturdy bases so they don't topple over. We all get a little clumsy at night and that increases as we grow older. Choose lamp shades that are clean, simple, and match your walls and floor. They're an excellent choice for adding a splash of color or subtle hues.
Hide grab bars with paint and disguise their color with throw pillows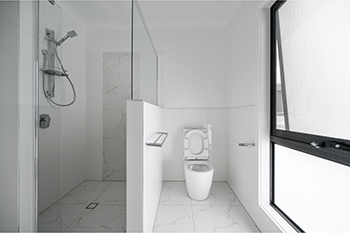 Adding grab bars to bathrooms near a comfort height toilet, in the tub, near a shower bench, and along staircases makes obvious sense for someone with limited mobility. But adding these pieces doesn't have to make them feel like they're living in a hospital.
Add throws, pillows, and low-pile carpets to rooms—including the bathroom—to make those grab bars less visible. They won't cover them up, but they will redirect a person's focus to another part of the room.
Since most grab bar choices come in chrome or plastic, paint the rooms a subtle color to match, like shades of gray or blue. A stark white plastic grab bar on a white bathroom wall can hide the bar and make the room feel like it has more space. If white walls sound clinical to you, we've helped thousands of customers make white walls exciting by painting the cabinet for a unique bathroom color scheme.
Keep the kitchen and dining room fresh and safe with classic silhouettes and natural tones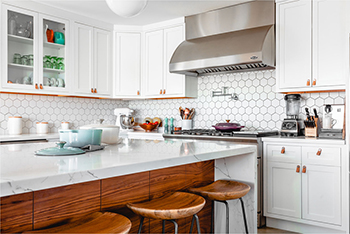 The kitchen is the most used space in the house. Painting the cabinets and walls is a helpful way to bring outdated or dull designs into a timeless future. Timeless room design often features natural materials, and the natural wood of cabinets or marble on a countertop brings life into any room.
If the kitchen cabinets are in rough shape, consider removing the doors, and it'll be less strain for older parents or family to grab things on shelves. Other ideas include replacing the handles and knobs to make them larger and easier to grab without forming a tight grip. Soft-close hinges are also a great option. These hinges feature hydraulic assistance so that the door moves easier, while making sure they never slam shut. 
Keep all the usual necessities close by with shelf organizers and if there's a rug or pad in the kitchen to reduce the impact on a person's knees, make sure it's non-slip. We can help you match paint colors to the pads, rugs, or other accessories to make them seem less visible in the decor.
Remember, good accessibility and design benefit everyone
As we age through life, we must consider these design ideas to improve the longevity our homes. The benefit isn't just a timeless design that never seems to age, but a more comfortable home for you, your parents, and your family.
Talk to one of our interior color consultants for more ideas. Call (925) 595-3081 or email us now.