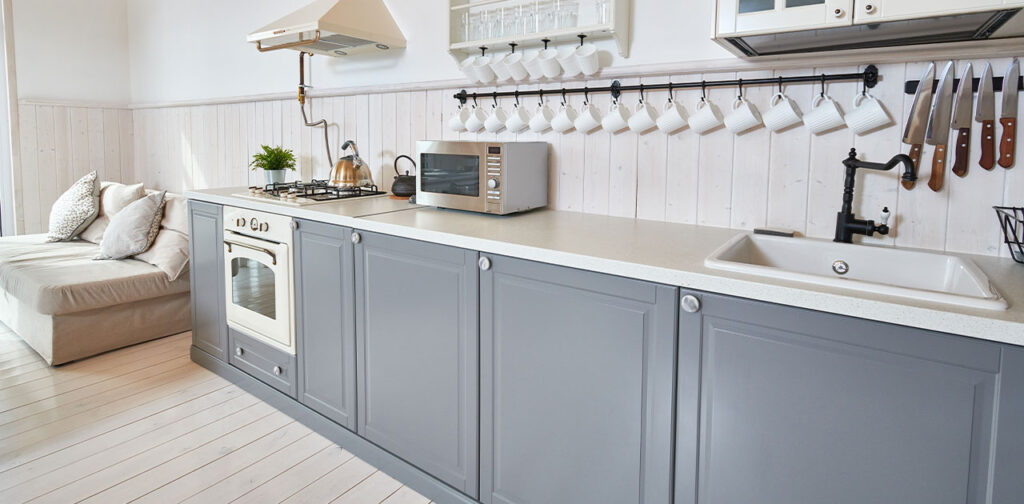 Here's when it's best to replace, reface, or repaint my kitchen cabinets
Things to know about painting cabinets and kitchen renovation:
If your kitchen is small, repainting the walls may not be enough change since kitchen cabinets and tiles often take up a large amount of wall space.

Painting "refreshes" the look of your kitchen cabinets, while refacing cabinets gives them a new look through new knobs, doors, and drawer fronts

Refacing cabinets is faster than painting

Replacing cabinets is recommended if you want a new layout, all new appliances, or all new countertops

Water-damaged and stained cabinets are also best served by replacing cabinets entirely

Repainting and refacing kitchen cabinets is much cheaper than replacing them since they use the existing cabinet boxes
Can't stand your kitchen anymore? You're not alone
Is your kitchen dated and showing its age? Do you subtly encourage your family to have holiday dinner at someone else's house because you're embarrassed by your existing kitchen? Or maybe you just feel cramped because the layout isn't working well for you anymore.
You aren't alone. Most of the motivations for a kitchen remodel come because people just can't stand working in there anymore. And next to the bathroom, a kitchen remodel has some of the highest ROI of any home renovation project. If you're considering selling, replacing cabinets, countertops, and appliances will help you make more money on the sale.
If you're the kind of person who likes to cook meals and eschews microwave meals and DoorDash (we don't judge), you probably spend at least 2 or 3 hours a day in the kitchen prepping, cleaning, and serving. You might spend more time there if your dining table is also in the kitchen. 
Our boss Toby always reminds people, "The kitchen should be where you love to hang out and feel comfortable."
When to replace your kitchen cabinets and do a remodel
Ask yourself these 5 questions
When our professional paint consultants talk to people, they can suss out people's inherent wants and desires with a few questions.
To determine if you should consider full cabinet replacement or a larger kitchen remodel, ask yourself:
Do you love your counters?

Do you love your appliances?

Does the layout work for you?

Do you have enough space?

What is your budget?
If you answered no to the first 4 questions, you are a good candidate for replacing your cabinets and counters and changing the layout, appliances, and lighting.
This is the most expensive option but the only way that you will get the kitchen of your dreams. Typical kitchen renovations start at $100,000 and move up from there. 
The biggest costs are usually labor (plumbers and electricians are almost always necessary), new cabinets, countertops, new appliances, flooring, and painting — in that order. 
Replacing cabinets pros:
You can match all new appliances, countertops, and flooring

Maximum choice in wood stain, style, and color

You can potentially upgrade to higher-quality materials

You can get more space and internal shelves for storage

High ROI if you're looking to sell soon
Replacing cabinets cons:
Can be expensive and may require some people take out a small home loan

Can be time-consuming and require weeks or even months (depending on supply chain availability) of time

Noisy and distracting if you're working from home
Here's when to consider cabinet refacing to preserve cabinet boxes
If you answered yes to the first 4 questions above, you may be interested in refacing. 
Cabinet refacing preserves the existing cabinet boxes (the part that hangs on the wall with shelves). Cabinet refacing will give you new doors and drawers, along with new hardware like knobs and handles that can dramatically change the look of your kitchen. 
You can still get new drawer boxes and maintain the wood look on the outside of the cabinets, too.
Cabinet refacing is also usually less than half the cost of replacing. To get a cost estimate, measure the upper cabinet height and width and the lower cabinet (under counter) height and width to get a square footage estimate. This will give you your square footage and help you develop your budget for refacing. The average cost of cabinet refacing is about $7,000, with laminate costing $60-$80 per linear foot, plywood veneer $100-$200, and solid wood upwards of $250-$500 per linear foot.
You have many options to consider in materials (plastic laminate, plywood, and solid wood are the most common). Refacing your cabinets also gives you options in veneers and stains. Painting is also an option.
The result is a series of refaced cabinets and drawer fronts on your existing cabinets that look like brand-new cabinets.
Cabinet refacing pros:
Cost-effective alternative to cabinet replacement 

Can be done without removing any of the existing cabinets

Lots of design choices, colors, and stains to choose from

Can be combined with some new cabinetry if necessary

Existing cabinet doors can sometimes be donated to Habitat for Humanity or groups like

Baja Bound

Preserves existing cabinet layout
Cabinet refacing cons:
Will likely require professional installation to ensure accuracy and fit

Refinishing cabinets requires steady ventilation 

Doesn't maximize storage space any more than you currently have
When to repaint cabinet doors and drawer fronts
Ask yourself these two questions:
Do you love the style of your cabinet doors?

Do you want a painted look?
You may not know the answer to the second question right away, but you probably know the first without thinking.
If you answered yes to both, you may be interested in painting the existing cabinets. Painting your existing cabinetry allows you to have a smooth, long-lasting painted finish that will last for years — provided it is done well. 
Our team at Woodiwiss Painting uses a process we have developed to give you the longest-lasting finish that will not peel, chip, or flake off — as long as you keep the kid's sword-fighting duels confined to the backyard. 
To get these long-lasting results, we use a primer that grips to your existing cabinet wood and a high-quality and durable paint. Together with proper cleaning and application, they'll keep your cabinets looking incredible for decades to come. 
Repainting old cabinets works well so long as the base cabinets are structurally sound and in good shape without water or structural damage. Painted cabinets are the most affordable option, saving you as much as 70% on the cost of new cabinets or refacing your cabinets. It's also much faster and can be done in as little as two days.
Cabinet painting pros:
Most cost-effective at about $4-$10 per square foot

The fastest way to a new kitchen look

Can be a DIY job if you're willing to do some or all of it yourself
Cabinet painting cons:
Easy to mistake a DIY project for something simpler or easier than you expected. Experienced installers and painters like us have a lot of experience. 

Cabinet refinishing requires steady ventilation

Kitchen counters, floors, and appliances can't be painted, so you'll need to paint or refinish cabinets to match what's there unless you replace other areas.
Ready to get started on your kitchen cabinets? 
We can help you repaint some or all of your kitchen, connect you with talented contractors and suppliers to source major components, and replace old kitchen cabinets with completely new cabinetry and space-maximizing shelving and storage. 
Call (925) 595-3081 in the East Bay Area of California to get started, email [email protected], or message us online for a no-risk quote and consultation.