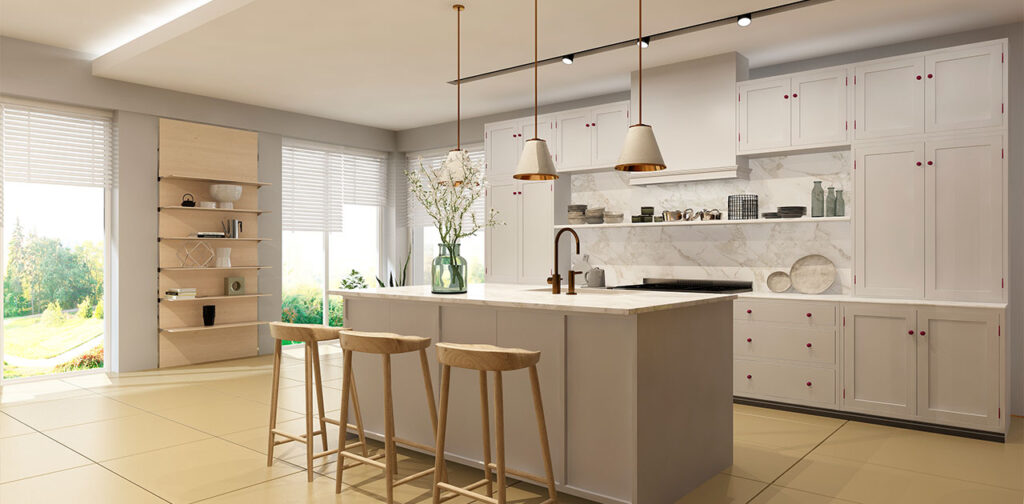 Here's what to avoid and prepare for during a kitchen renovation
It might not feel like it, but the kitchen is arguably the most important part of your home. Nearly everything that happens in your house except sleeping starts or ends in the kitchen. 
We've been lucky to participate in some gorgeous kitchen renovation and remodeling projects over the last twenty years. But as projects go, a kitchen renovation is the most disruptive to a family. Here's what to avoid and know before you or your contractor starts knocking out walls.
Know your kitchen remodel budget and its limits
Prices vary around the country, but around here in the East Bay and points like Walnut Creek, Orinda, and Alamo, a kitchen renovation starts at about $40,000. That's assuming you don't want or need new appliances.
For about $50,000, you can get new flooring, cabinets, a backsplash, countertops, one or two lights, a sink and faucet, plus labor

For about $50,000–$60,000, you can get new flooring, cabinets, a backsplash, countertops,, 2-5 lights, a sink and faucet, appliances, and labor

For about $60,000–$90,000, you can get new flooring, cabinets (including crown molding, glass cabinets, and under-cabinet lights), a backsplash, countertops, several lights, a sink and faucet, appliances, ceiling design, and labor
The one thing that's consistent but unsaid in all of these beyond flooring, cabinets, and countertops is painting. Sometimes, a fresh coat of paint and new cabinet hardware is all you need to get that new kitchen feeling.
You can also save money by following our kitchen cabinet painting hacks, or  consider a really deep clean. 
Have a meal prep or interim cooking plan
When you're ready to start, remember that it'll take a few weeks or even months to build out your dream kitchen. In the interim, you'll still need to eat.
If you want to avoid ordering pizza every night, set up a temporary kitchen somewhere else. The dining room is a good spot for microwaves and a cutting board, but the refrigerator and stove might have to move to the garage depending on outlets and power consumption. 
Meal prepping will be your friend during this period. If you don't have an instant pot, now's a good excuse to buy one. You can throw a bunch of simple ingredients together in one or a slow cooker and come out with useful portions. Eating healthy with a slower cooker is the easiest way to have easy meals throughout the week, too.
If you're going to stick with one skillet, a cast iron skillet and a hot plate is another good way to go for maximum flexibility. If you have the space in the backyard, weekends with the kids can be improvised "camping" trips. Don't forget the grill, too.
Dirty dishes will be cumbersome, so consider eco-friendly, biodegradable paper plates and cutlery. It'll save you the trouble of trying to wash dishes in the bathroom.
Remember your bathroom sink is not the kitchen sink
Speaking of the bathroom, now's a good time to reiterate your bathroom sink is not a kitchen sink. It was never designed for the kinds of food, grease, and other bits and pieces of things that fall down a kitchen drain. Get a drain strainer that can fit over your bathroom sink so they don't get ruined, and avoid pouring grease in it entirely.
In fact, you should avoid pouring grease down any drain. It's among the most common mistakes homeowners make, but cooking grease congeals in the pipes. It's hard on your house's plumbing and the city's sewer infrastructure. 
Choose your kitchen cabinet hardware and storage first
There's almost an unlimited number of flooring and paint options in your kitchen. But cabinets have fewer choices and appliances fewer still. So start by choosing the cabinet and counters.
Kitchen cabinets take up the most space and set the tone for your renovation. Consider where they go and how deep they are, in addition to their aesthetics. 
Homeowners often tuck the fridge off to one corner of the kitchen and forget refrigerator doors take up space when they open. Consider cabinet placement and height around the fridge. 
Likewise, don't forget safety concerns about stove placement next to a sink that splashes water.
One good rule of thumb: remember the "work triangle". Consider how you cook and prepare food between the fridge, cutting board, and stove. Keeping these items together saves you time and improves your meal prep work. 
Don't forget lighting improves safety
Unlike the dining room, where you might want to create ambiance or change moods through dimming, kitchens need functional light that works and looks nice. No one needs to be chopping vegetables under dim lighting. The natural light you have—if any—plus light fixtures should work to accent the space and improve safety.
Flooring and appliance considerations for style and taste
Flooring is the next design decision to consider in your kitchen renovation. After you've finalized your cabinet and countertop decisions, you'll want to make sure your flooring coordinates well and their price, durability, and how easy it is to clean.
Major appliances tend to come in a handful of colors, like stainless steel, white, and black. If you know you have an affinity for one, it's easier to match with the rest of your new kitchen around those options.
Bring it all together with a fresh coat of paint
Short of installing the appliances, painting is the penultimate step for your new space. Some contractors like to paint before the cabinet installation, but we recognize the cabinets can be time-consuming to procure and install.
Painting last or nearly last gives you the most flexibility without risking damage from ongoing work. For instance, it's a lot easier to haul in a new stove or oven if you know the walls haven't been painted yet.
Know that the actual space you create by moving, adding, or removing things like a kitchen island or deeper counters won't change in absolute terms, but the color palette you choose for your kitchen renovation can make the room feel bigger or smaller. 
You can talk with one of our painting consultants for ways to accommodate the lighting choices and windows in your kitchen, as well as options for easy cleaning. Most homeowners appreciate high-gloss paints that are easy to wipe down.
Ready to get started on your kitchen remodel?
Woodiwiss Painting can help connect you with contractors that can turn your kitchen from a construction zone to a beautiful kitchen dream. Get started on your kitchen remodeling project by calling (925) 595-3081 or emailing [email protected]