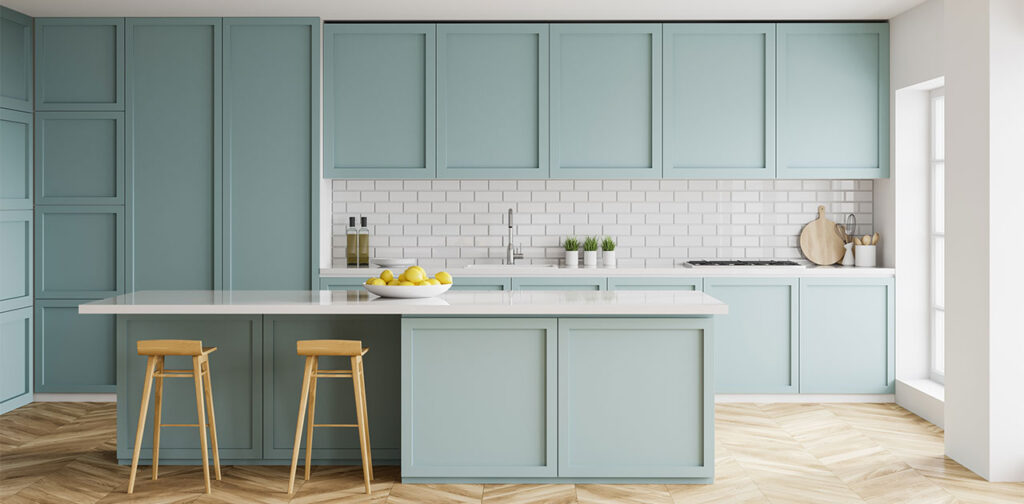 You shouldn't paint cabinets yourself. Just don't!
Painted cabinets are a great way to change your home. But you probably don't want to do it.
For a business dedicated to painting home interiors, roofing, washing and painting exteriors, refinishing decks and patios, and painting small businesses and some commercial offices, we talk a lot about how to do things yourself. 
We're not kidding anyone by pretending painting a house is impossible for everyday people. As DIY projects go, painting isn't impossibly hard. But it's often like changing the oil in your car: you could probably figure it out, but it's better and faster to let someone else do it. 
But today we're going to come right out and say: you shouldn't paint your kitchen cabinets yourself.
You shouldn't paint your kitchen cabinets because it's a real chore, rarely done well, and a long list of other reasons:
Most people struggle to align the door hardware

just right. 

Taking the cabinet doors off is easy, but then people forget to label them and lose track where they go.

Taking the cabinets off entirely is best and seldom done.

Using spray paint sounds easier, but it never coats smoothly over large areas.

Reaching over your countertops and appliances is a struggle, since most people aren't going to unplug the fridge for hours while painting cabinets.

The risks of spills are incredibly high in the tight spaces most kitchens demand.

Re-hanging cabinets is a pain, since they're heavy and require at least two people, sometimes three.

Old cabinets may be hiding mold, mildew, or damaged wood, requiring remediation or wood filler.

There are a bunch of finishes and primers to choose from depending on your specific kind of wood, and most people assume they can skip it or end up choosing wrong cabinet paints.
Painting kitchen cabinets is a job most people are unprepared for. Unless you have some real talent or experience with a similar DIY project, you should hire a professional painting contractor to do it for you. Painting professionals like us are virtually guaranteed to do it faster, safer, and better, with smoother application and way better aesthetics.
This is not to say you shouldn't get someone to paint cabinets or pursue the project at all. Quite the contrary: painted cabinets are a huge change to the way your kitchen or bathroom looks. Freshly painted cabinets bring new life to a room and are way cheaper than a whole kitchen remodel or bathroom renovation.
"I think I can handle painting cabinets. It'll be cheaper."
It probably won't be cheaper. Consider all these steps as the bare minimum to doing a mediocre DIY cabinet painting job: 
Remove all the hardware from the doors and drawers.

Remove the doors.

Lay down a protective barrier on your countertops, appliances, etc.

Tape up the edges of the cabinet boxes.

Remove or sand any old paint or stain that needs removing.

Apply primer.

Brush on the first coat of paint and wait for it to dry.

Apply a second coat (you'll always need two coats).
To say nothing of the effort of removing food and dishes from the cabinet, choosing the right cabinet paint, and ensuring all the paint quality is up to par. 
There's also a ton of prep work beyond just clearing out the cabinets. Kitchen grease is almost certainly a problem for wood cabinets older than a year. Removing that grease is critical to ensure the primer and paint applies evenly and permanently, but also to reduce the chance the paint fails over time.
At some point, you have to question whether weeks or months of off-and-on cabinet painting is worth it to you versus the cost of a professional painter for a few days. Eventually it's better to save time and wrestle with the kids instead of a cabinet in the backyard. 
Consider, too, the costliest part of painting kitchen cabinets is the cost of food! Most people eat out a lot when the kitchen is torn up. Would you rather eat out every day for weeks or rely on cooking only the simplest of meals? Or just get someone to paint kitchen cabinets in 48 hours and treat the kids to a pizza one evening?
Painting kitchen cabinets with professional painters is still cheaper than a renovation
Painting a kitchen works best with more than just a brush or a roller. Without the best tools, you'll be forced into a labor-intensive cycle of repeating the paint job, often with diminishing returns and increasing frustration.
A professional painter knows what they're up against — literally. Most of the time that's likely the back end of a stove since people usually paint the kitchen walls when they paint the cabinets. That's not always necessary, of course, but since you're better off removing the cabinets to paint them anyway, you might as well put a fresh coat on the exposed walls. 
Thus why painting kitchen cabinets is a time-consuming project in tight corners around stubborn, hard-to-move appliances like refrigerators and stoves. A professional painter knows what to expect and they've amassed a small array of tools, brushes, and handles to reach up, around, and over other hardware. Professionals like us have sprayers that can paint a cabinet door and box in the least amount of time with the best finish coat or second coat.
"Okay, I won't paint my kitchen cabinets. Now what?"
Get started with Woodiwiss Painting. We serve the East Bay area around Walnut Creek, Orinda, and Pleasant Hill, California, and we'll bring all the right equipment and help you choose the right paint color or finishes for a final product that turns your tired kitchen into a like-new experience.
Most people keep their existing kitchen cabinets and drawers, opting to swap in new hardware to match the new colors. We can help you get all that done so all you have to do is clear out the cabinet interiors and enjoy like-new cabinets by next weekend.
Painting kitchen cabinets is easy when you call or email us today to get started.