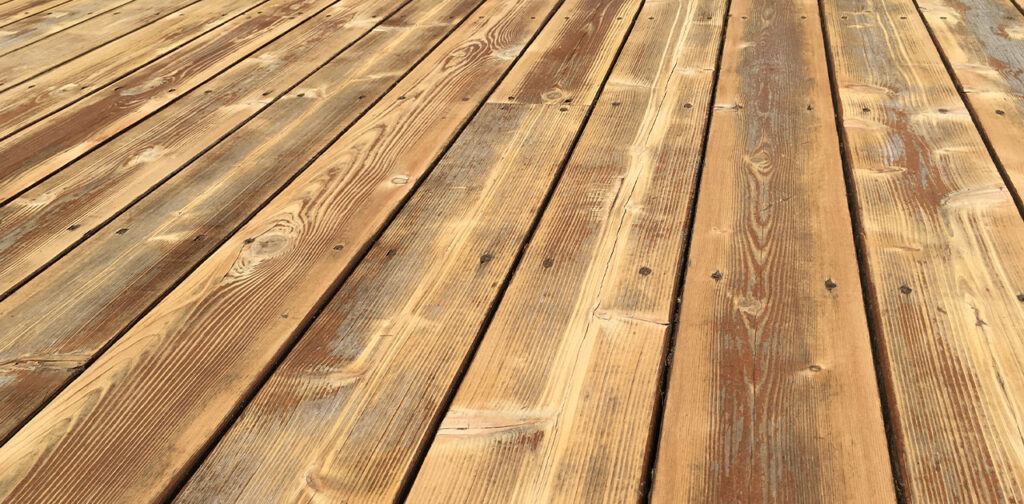 Ask Woodiwiss: Why should I hire someone to stain my deck?
We talk a lot in this blog about how to do some home painting and staining projects yourself. As DIY projects go, a weekend of deck staining seems like a good project. Grab a gallon of deck stain and some brushes, and have a go at it. Unlike interior house painting projects, if you don't do as good a job with the deck, it's no big deal, right? It's outside, and it's just going to continue to degrade. Worst case, you can patch it up or hire a contractor later. 
Thing is, deck staining done right can last five years or more. If you're walking outside every other year and thinking, "Time to stain the deck again this year," you're doing it wrong. You shouldn't have to stain your deck that often. That alone should be reason enough to hire professionals.
Hiring professionals like our painting and deck team comes with plenty of benefits:
Your deck will undergo a full pre-treatment, complete with power washing, sanding (if necessary), and sealing. The pressure wash does more than remove debris. It removes some of the oxidization under the surface.

You'll save time, which can free you and your mental energy up to do other things around the house—like get after that garden.

You'll extend the lifetime of your deck, sometimes by as much as double its expected lifetime, even if you stain your deck frequently.

Professionals are going to apply two coats. Most people do one and, left to their own devices, prefer to call it "good enough" and go back inside to watch football.

You won't have to buy equipment and tools that sit around with no other use, like brushes or a pressure washer (though pressure washers are fun, and you should absolutely run down to the local hardware store to get one). Professional contractors also get some savings on the stains, which is often passed along to you.

You get solid advice about what to expect, what stain to purchase, colors, and the right kind of seal and protection for your needs.
People hire professionals for all sorts of things we could do ourselves. We hire people to cook for us at restaurants and clean our houses. Usually because it's a job we're not very good at, don't want to do, and ultimately know someone else will do a better job of.
About wood restoration, rot, and deck staining on older decks
Whether treated or not, wood takes a lot of harsh sunlight, foot traffic, dog paws, and rain. If it's been a while since your deck has been stained (or ever), refinishing your deck and protecting it will help you keep your deck looking like new. However, if wood rot has settled into some or most of the planks, rails, or steps, professional contractors will want to replace those boards. 
Rot settles in from moisture and fungi that break down the wood, making it weak and visibly worn. Putting a seal or stain on top of wood rot is like closing the door with an angry bee in the house. The moisture is still in there and will continue to wear down the wood.
Hiring professional painters and deck staining crews like us means hiring people who care about the job. We can't speak for other contractors, but we are not interested in covering over problems because they will continue to be problems. We want to fix them right the first time. You might save money by patching over them and deferring some maintenance, but that's not the Woodiwiss way. Proper preparation is the key to deck staining that lasts. 
How much does deck staining cost?
The price to stain a deck per square foot is around $1.50-$4.00, on average, across the U.S. The right contractor will give you a free estimate of your project costs, usually based on square footage. Intricate rails, guards, steps, benches, pergolas, and other additional items that match, like maybe a gazebo, will require more materials and time. 
Is it better to use deck stain or paint?
Deck stain and deck paint aren't all that different in application. Both require a proper pre-treatment with washing, sanding, and applying two coats. Paint has some advantages over stain, though. More on the differences between deck staining and painting.
What you do with your deck depends on your style and preferences. Paint gives you more color choices, whereas stain shows more of the natural wood grain. Both provide you with a durable finish when applied correctly.
Get your deck stained this season with Woodiwiss Painting
Ready to re-stain your old deck to look like a new deck? Or setting up your newly installed deck with its first coat of paint or stain? We're ready to help in the East Bay Area. Stain your deck with a professional crew ready to get to work. 
Contact us online, call (925) 595-3081, or email us [email protected]. Unlike most contractors, we check our email and respond to messages within half a day.