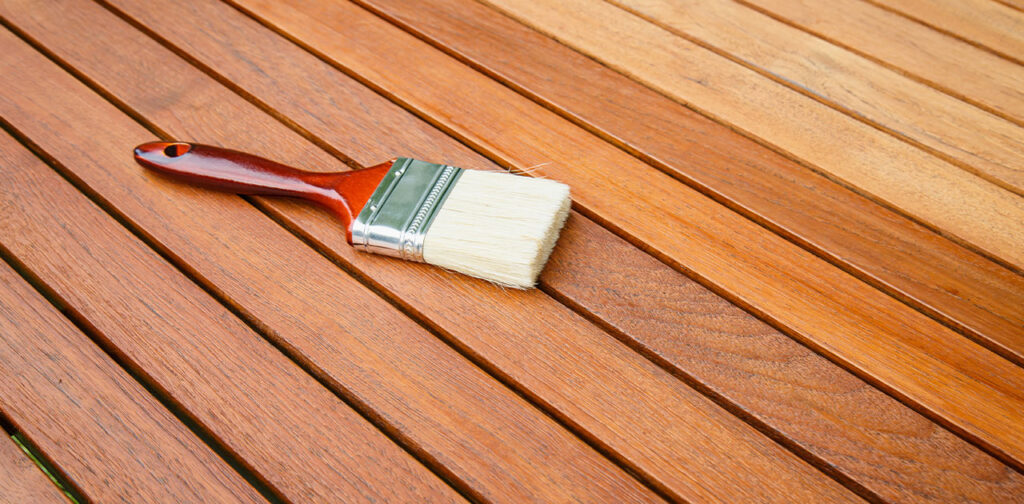 Ask Woodiwiss: When should I stain or paint my deck?
Unlike blue jeans, a weathered deck is not a good look. Get your deck maintenance in order with these tests and tips
Does your deck look so gray that people confuse it for the sidewalk? When it rains, does your deck hold on to water like a mulch bed? Did your guests spend the 4th of July picking peeling paint chips off the bottom of their shoes? Are you worried your deck might be more embarrassing than your uncle this Memorial Day? If so, it's probably time to stain or paint your backyard deck. 
There are plenty of benefits to a quality deck paint job or stained deck
A painted deck or well-stained deck will:
Extend the life of your deck, avoiding costly repair and replacement costs

Give a fresh burst of color and a new look to your home's exterior

Protect pets and people from peeling paint

Improves the strength and durability of the underlying wood

Creates a rain and moisture barrier over your deck

Prevents wood rot, which, once started, requires costly replacement of the rotting boards, rails, or panels
One way to test if your wooden deck is ready for a new stain: pour a glass of water on the deck. If the water is absorbed into the wood immediately or within a few minutes, the wood is ready for staining. Water should bead up into distinct droplets or puddles.
While wood decks are the most common, vinyl decks can also benefit from a fresh coat of paint whenever you're ready for a new color.
We advise customers to stain or paint their deck:
3-12 months after installing new wood decks. This allows the moisture inside the wood to "season" and dry out, helping any new finishes penetrate the wood grain. 

Stain or finish pressure-treated wood according to the manufacturer's instructions. Some are designed to paint or stain immediately after installation, while most require a few months in the sun.

At least every other year for high-traffic decks. Dog paws and nails rapidly chip the deck paint or deck stain, resulting in even faster degradation.

Whenever the deck appears discolored, faded, dull, gray, or otherwise weathered. 

Whenever you see dry rot, split rails, water stains, large cracks, or bending boards.
Cold weather climates will see more wear, too. We don't have that problem in the East Bay Area of California. However, we get a lot of sun, so UV protection in a paint or stain is vital to keeping your deck looking beautiful.
Maintain visible wood grain with a semi-transparent stain or completely cover it up with paint
We've covered the differences between painting versus staining before. Deck staining is a lot like applying a film on top of the wood that allows the natural beauty and wood grain to show. Deck stain seeps into the crevices of wood and shows off the distinctive knots and character of the boards. As the names suggest, transparent stains show more wood grain, and solid stains show less of it.
A painted surface gives you a strikingly different look with many more color choices. A painted deck will hide wood texture and imperfections. Because paint acts as a blanket over the wood, you get a strong, water-repellent wood preservative that lasts up to five years on average.
Our process is the same for for applying stain or paint: 
Clean the wood thoroughly either with a pressure washer or deck cleaner solution.

Use an exterior-grade wood filler for large cracks or splits that can be reasonably repaired.

In some cases, we apply a clear wood preservative that acts as a polymer.

Roll and brush two coats of high-quality exterior latex paint, solid stain, or semi-transparent stain over the deck boards and rails.
A painted deck can be a striking, bold look with the right deck paint
Paint gives you more color choices than stain. Even semi-solid and solid stains come in far more limited colors than paint, usually in colors that already resemble wood like cherry, barn red, oak, and pine.
Deck painting that matches your home's exterior paint works well, but picking a complementary color to your home's exterior will make your backyard sing. 

We've had customers choose paint colors that match the trees, flowers, bushes, and landscaping around their homes.

Choosing a paint that matches

your front door color

can also work well depending on the size of your deck and personal style.
Paint or stain your deck in the spring or fall for the easiest application
A deck can be painted or stained just about any time here in most of California. Late spring and early summer are the best times to get decks reworked because they give the largest windows of time without rain and reduce the chances of excessive pollen or leaves falling on wet paint.
The best time to paint or stain a deck is spring or fall, whenever your deck is completely dry and can stay that way for two days. 

You need at least 48 hours with no forecasted rain after applying the stain or paint. 

Temperatures should be between 50 and 90 degrees Fahrenheit.
Deck owners in cold weather zones should avoid doing deck work in the winter because deck stains and latex paints will struggle to adhere to cold wood. Likewise, anything above 90° and it might be so hot some semi-transparent stains and paints may struggle to dry without looking like it was broiled.
When should I sand or strip my deck?
Depending on the age of your deck, it might make sense to sand or strip it. Sanding the deck is the safest way to remove all old deck paint or stains and leave a beautiful deck behind that looks like it was just installed. Chemical stripping can damage your deck if used improperly. Sanding the deck or using a stripping agent is the best way to remove all old deck paint or stains and leave a beautiful deck behind that looks like it was just installed. Wood is one of the most durable surfaces for outdoor use, but after about ten years of weather, stains, paint, and use, a full sanding is worth it. 
We favor sanding over a a stripping agent because if done right, sanding can produce a great outcome and help your deck last longer. versus sanding because it looks professional, reduces the chances for splinters later, and allows new finishes to apply evenly. It's also faster and easier to do!
Protect your wood deck with a quality paint or stain job
Our experienced, professional painters have painted decks of all sizes, styles, and wood types for over twenty years. Our crew can help you decide between painting versus staining and ensure the right materials are chosen for the job. Get it done now and have a fresh, new, and less-embarrassing look for your backyard before next Memorial Day or 4th of July.
If your deck needs carpentry repairs, either from sagging boards or split panels and rails, we can help repair or replace those, too.
Get started online, call (925) 595-3081 or email [email protected] for a no-obligation quote.