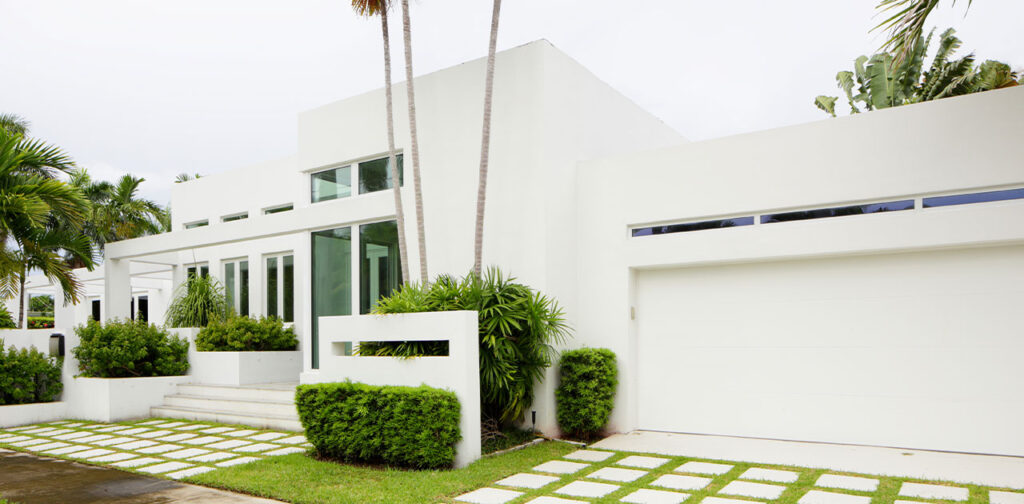 Ask Woodiwiss: What's the easiest way to paint a garage door?
Painting a garage door is relatively easy as DIY home paint projects go. 
Pressure wash or wipe down the garage door. Pressure washing is easier (and more satisfyingly fun).

Prime the entire surface with a roller and let it dry.

Start painting the garage door after the primer is dry.

Let the garage dry in the open position to avoid any drips.
After a few hours you'll have a newly painted garage door. 
Thing is, like any craft, there are some crucial things to know before you begin painting a garage door. 
For one, garage doors move, so there are ways to do this without hurting your back by kneeling all day. 

The weather forecast matters because of the heat garage doors absorb. 

There are also considerations in brushes vs. rollers, how much paint you need and the number of coats, as well as issues with adhesion and keeping your driveway clean.
Choosing the right garage door paint and color
Acrylic latex exterior house paint is the best choice because it'll best withstand the dust, debris, sun, and changes in temperature and humidity. 
As color choices go, you could go neutral—like beige, white, or gray—or bold, like red, yellow, or even blue. We once painted a garage door to match his favorite sports team. 
Whatever you choose, make sure it matches your house's overall tone and the neighborhood's. It's tempting to go with something off-the-wall (or door), but how would you like it if your neighbor's largest exterior surface area was painted some odd color like bright pink or neon green?
If you're unsure and thinking of doing a whole-house exterior paint job, one of our painting consultants can help you choose some color palettes that shine. Some of the hottest trends right now are charcoal gray and dark navy blues. 
Some like the "wood door look". This can work where the garage door matches the home's exterior that's also natural or wood-paneled, like if you have a lot of fencing, a deck, or wood shutters. A wooden door uses special paint to achieve the effect. It also requires a little more stability in the roller and brush work so it applies evenly.
Cleaning and prepping your garage door and surrounding surfaces
If your current garage door has chipped paint or vinyl or has visible bits of metal showing, you need to sand and chip off all the old paint. Otherwise, it's just going to keep flaking off and will take your fresh paint with it. 
A power washer can help, but a garden hose with a tight spray nozzle can work well at removing dust and grime. These power nozzle attachments are available for a few dollars at the hardware store and just screw on to the end of your garden hose.
Painter's tape around the trim and rubber seal along the bottom of the garage door will help you paint the garage door and nothing else. 
Lay a drop cloth, tarp or plastic sheets down to protect flat surfaces like your driveway and garage floor from excess paint.
Priming and painting the garage door in the right weather
A few notes on the weather:
Make sure everything is dry before you start painting. 

Likewise, you'll want to make sure the forecast supports your project for the day. Rain and high humidity are going to dampen your spirits and paint. 

Choose a day where it'll be sunny, calm, and with low to moderate humidity. Low humidity helps ensure a smooth finish and even cover.

Indirect sunlight can also help since direct sunlight on intense summer days risks making the door too hot to handle.
Apply a primer to promote adhesion. It's always easy for people to skip this step because it seems so technical, but one coat of primer is the difference between repainting the garage door next year or five years from now. It'll also prevent bare spots if you have chips or cracks in the old paint color.
The handy thing about garage doors is they move. If you release the garage door from its track by pulling the red release handle, you can move the garage door manually up and down without a lot of effort. 
Start at the top panel and work your way down by lifting the garage door up to you. This way the top panel goes in the garage as you lift it, ensuring it dries without dripping down. It'll also protect the garage door panels from dust, leaves, and pollen while the paint's wet.

Paint one long panel at a time. We use a roller for most of the surface area and a brush to apply the wet edge near the trim and places you have painter's tape.

Let the paint dry on each row and raise the door as you go, painting even coats along the panels.
You might be able to get away with one coat if you're repainting the garage door the same or similar color. But if you're moving from light to dark or vice versa, you'll need a second coat. 
Ready to have someone paint a garage door for you? 
We love exterior paint projects. They help improve a home's curb appeal, lets people choose multiple colors across their trim, siding, fencing or patios, and the garage door. Our professional painting crew is ready to get started if you're ready to do this project without sacrificing your weekend. 
We can help you choose colors, develop a whole-house palette, apply a fresh coat inside and out, and help you replace that old color with a new one in the span of one or two days of work.
Call (925)-595-3081, message us directly, or email [email protected] to get started.