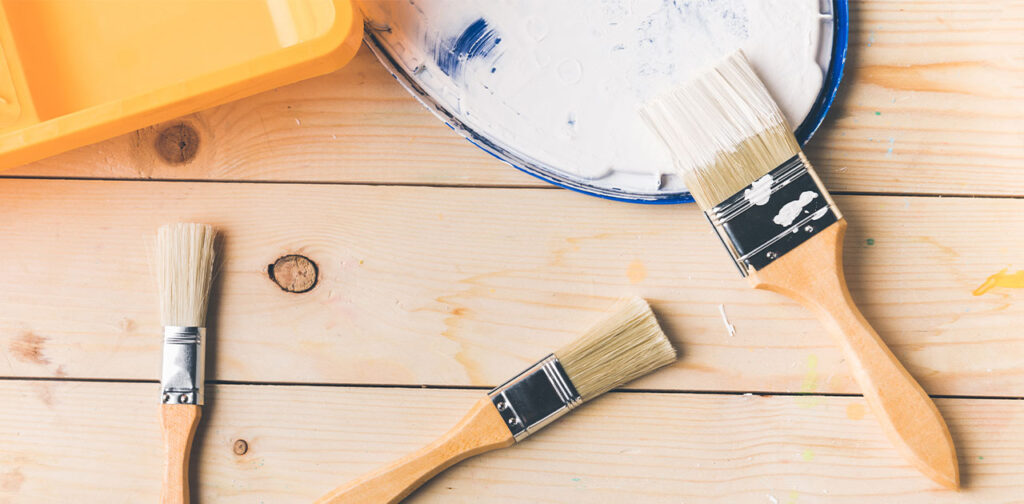 Yes, we can paint pressure-treated wood — in due time
It's almost spring, which means backyard cookouts, grills, parties, swimming, games, and more are almost here. It's also a great time to install new fences and decks since the ground is relatively soft compared to the dry, hard summers. Whether you're getting a new wood surface installed somewhere this season, or had one last season, or have an aging pressure-treated wood surface in need of a little color, here's how it works. 
First, painting pressure-treated wood is purely optional. Some people just like a splash of color or don't care for the natural pine or wood grain that's visible with pressure-treated wood. But because there are chemical preservatives infused deep within the wood fibers under high pressure that make the wood resist rot, insects, and water damage, you probably don't need to paint it to "protect it". Painting pressure-treated wood is a purely aesthetic choice.
For the curious: the most common pressure-treatment process involves chromate copper arsenate (CCA), which contains arsenic. Arsenic is, of course, harmful to humans and pets in high doses, but this compound is what keeps bugs from eating your deck posts or floors out from under you.
How we approach painting pressure-treated wood
There are two critical steps to take before you paint pressure-treated wood. One is choosing the right paint, and the other is being patient as the wood and paint dries. 
Use low-quality paints or primers and the craftsmanship of the work will show in about a year or two as the paint chips, bubbles, and cracks — especially under the intense heat of the California sun. It also risks warping the boards.
Painting pressure-treated wood is a lot like any other surface or wall: 
Choose the right color.

Make sure everything is cleaned, dried, and ready.

Apply a primer to help paint adhere, especially water-based paint.

Use high-quality exterior latex paint. Oil-based paints can work, too.

Apply paint, wait for it to dry, then apply a second coat. You must apply at least two coats.
That's really it! A lot of people assume they can't paint pressure-treated wood because somehow the chemical preservatives or treatment will prevent paint from sticking. And that's true if the pressure-treated wood is very new and still rejecting water.
The moisture content of pressure-treated wood matters most
The only thing stopping you from painting pressure-treated wood is likely the moisture content. Too new and we can't do it well. 
Because of the chemicals applied to pressure-treated wood, the wood and the paint can take a long time to dry. When it rains you might see water beads on the surface, especially new lumber. This is a good thing, but it also means the wood can reject absorbing some of the paint, too. Pressure-treated wood ready to be painted will absorb water beads. If your wood rejects this water test, it's too soon to paint. If your wood has been exposed for at least a season or two, it'll probably be fine.
Still, the timing on when you can paint pressure-treated wood varies based on when, where, and how it was treated, where it was stored at the hardware store or lumberyard (like indoors versus outdoors), and where it is in your backyard (like under a tree). 
The moisture content is also dependent on the thickness of the wood, whether it was kiln-dried or not, and the wood type (like south as southern yellow pine vs. cedar). 
If you're considering building a new structure, look for kiln-dried lumber. It's still treated wood but requires less drying time. You can identify kiln-dried wood with a "KDAT" seal stamped on it somewhere, which will allow you to paint it sooner.
Further, wood surfaces that aren't the same thickness — like the rails and floor of a deck — may also impact when we can paint pressure-treated wood because while thinner pieces may be ready, the whole structure might not.
What about staining versus painting? It's a matter of aesthetics. If you like wood grain, staining your deck or wood surface is the way to go. We can stain pressure-treated wood in about the same process as we paint-treated wood. But the same rules apply to stain as paint: it has to be dry wood.
Is that it? What am I missing about painting treated wood?
There's nothing nefarious to it. Just that it's a real job and most people don't want to do it. To do it well so it lasts 5 or 10 years and not 2 or 3 you need to do the prep work first. Treated wood or not requires a smooth surface. This means using pressure washers with enough force to really remove the dirt and grime that sits in the crevices and grain. We use soapy water or some other mild detergent and a commercial power washer with a jet nozzle to blast off every inch of debris. We want to paint the wood, not the dirt. Depending on the surface, we may use a dry rag to ensure every corner is properly dry before we start, too.
It goes without saying paint, even water-based paint, doesn't like to adhere to wet wood. So you'll need a couple of sunny days so it can dry completely after being washed, sanded or swept with a stiff-bristled brush, and likely washed again to remove any dust.
You may also need to sand the surface down before you begin painting. This can be uncomfortable since even outdoors you need to wear a dust mask, goggles or safety glasses, and likely some gloves. Which is a hot proposition in the summer.
What about painting untreated lumber?
We actually use untreated lumber for most small building projects we work on. Pressure-treated wood works great for fence and deck posts or anything that goes into the ground or serves a structural purpose. 
We still paint these surfaces with latex paints. Oil-based paints aren't available or legal to use in California. If you're in a locale where oil-based paints are available, you can use them but make sure they have a good sunblock rating. Oil-based paints typically harden a little stiffer than many latex paints, but it's almost impercetible and not worth the environmental hazards or hassle of oil-based paints.
Latex primer and latex acrylic paint will do well and won't fade in the sun if you've already got latex paint on the wood. See how to tell if your surface has latex or oil-based paint.
Painting pressure-treated wood is easier with a pro
Let Woodiwiss Painting help you paint decks, fences, gazebos, and other outdoor structures for beautiful backyard barbecues and summer fun.
Treated wood requires little extra attention than most other ordinary surfaces. But pressure-treated wood or not, most people aren't interested in enduring the setup, prep, painting, and second coat that's required. We do it all the time with high-quality primer, paint, and professional equipment to be efficient and apply coatings in the most advantageous method for the best outcome.
Old or untreated wood can require repairs or replacement, too. We can do some minor repairs or help connect you with contractors for larger jobs. We'll review all your options, risk-free, during the initial consultation. 
If you're in Orinda, Moraga, Lafayette, Pleasanton, Walnut Creek, Alamo, Danville, Pleasant Hill, or Concord, give us a call at 925-595-3081 or email [email protected]. You can also contact us directly online.