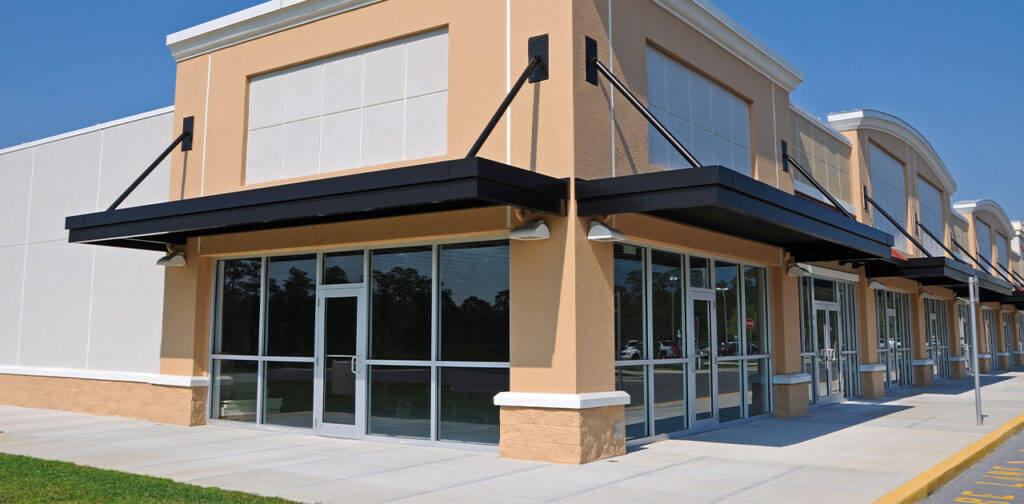 What makes one commercial painter better than another? It's a Goldilocks match of size, people, and process.
We've talked before about what to ask commercial painters before hiring them. But it won't take long for many painting businesses to seem a lot like every other painter.
You may find independent contractors willing to work on a job by themselves. These are often well-meaning people who truly do good work on many jobs. On the other end of your list are large national brands and regional chains that provide big-name guarantees. 
Does this sound like your commercial business?
Commercial painting has unique considerations, though. Commercial businesses, offices, office parks, and retailers need three main things:
You need someone responsive

You need someone who does what they say they will do, from the sales team to the painters and back to the office staff. All in sync.

You need someone who will do the paint job right the first time around and not waste your time.
The best commercial painting contractors have a process paired with well-trained people
It sounds trite coming from us, but we have a great commercial painting team because our entire process is based on those three main commercial concerns.
We have an office team ready to reply.

We have a production manager assigned to each project so they're available to handle client concerns without being distracted by other activities.

We have multiple ways to connect with us, text, contact form, email, social media, a phone call, and even calend.ly links for video chat.
Commercial painting projects benefit from our position as "plenty large enough" to offer some of the perks of the big national brands without the guilt of not hiring local to the East Bay.
This "just big enough" size has more benefits for commercial painting customers. 
Our detailed customer database and scope creation process keeps everyone on the same page from the person who answers the phone the first time to the person who sends invoices, paints the walls, orders supplies, and schedules your job.

We have skilled estimators, which may not sound like much, but they ask the right questions to identify project needs and expectations the first time. This gets written into the proposal and keeps people organized and predictable. Businesses deserve predictability.

Our painters are trained in-house, regardless of their experience when they start their careers with us.

All that training results in a connection and reverence between managers, painters, and office staff.
And just like you'll have a project manager for your project, we have a worker-facing production manager who manages our team leads to keep the painters on schedule so you don't have to spend time managing yet another thing.
Painting is a craft, and we're the only major paint business in the East Bay requiring professional development
Virtually none of the national brands anywhere in the US care about professional development, certainly not for people who are "just painters." But we know painting — whether it's a fence or the front of the largest wall in town — is a craft. 
That's why we incentivize (and require) all our craftsmen and women to keep pushing for better skills. This results in high-quality paint jobs so you won't run into workmanship issues for as much as 15+ years. That's a serious return on investment for you and us because it reduces turnover. Unlike the high-burn-n'-churn of the national brands, much of our crew has been with us for decades.
Scheduling is hard, but not when you have a dedicated team
Independent contractors may be overburdened with work. The big national brands may have a lot of availability, but that's because they frequently hire people on demand day-to-day. There's virtually no job they'll say "No" or "Not right now" to, even when they don't have the staff to do it. And right now, almost no one does.
That comes with obvious costs because their crews are less reliable no matter how well-meaning anyone in the process is. You need a mid-size business like Woodiwiss that operates knowing who we are, and what we do. You need a place that's in that "Goldilocks size" of having local relationships, suppliers, and size without feeling sprawling and monolithic.
This makes scheduling easier for many businesses — arguably the most challenging part. Our dedicated in-house team is as reliable as any dedicated teacher or nurse. Since they've been working in the East Bay for years on average, they have local knowledge, which is beneficial in understanding economic patterns, climate, local regulations (if any), and environmental laws and considerations.
Save time and eliminate hassle with Woodiwiss and get your job done with no lost time
Many places talk about mission and values, and we have ours. But it doesn't mean anything if a client never notices or experiences it.
Mid-size commercial painting companies like Woodiwiss Painting achieve the harmony of personalized attention from small contractors and the resources of a large corporation (minus the gobs of money they throw at marketing in every corner of town).
All this means we save our clients time and hassle. We won't promise we're the lowest-cost painter in the East Bay (we're almost certainly not), but the savings come in having no days lost because painters didn't show up to work, or the crew grabbed the wrong paint, or they forgot supplies or made a mistake. 
With Woodiwiss you'll have:
Someone who knows how to handle a mistake, in the rare but humane case it happens.

A single point of contact in whatever medium works for you.

Painters who show up on time, are totally aware of the scope and task at hand, and provide self-management and honest communication.

Someone you actually trust because we do exactly what we say we'll do.
To add to that trust, all of our teammates are insured and bonded, which is common among national brands but not all independent contractors. If someone falls, slips, or trips off a ladder (OSHA's leading cause of workplace injuries), your worker's comp and insurance company will notice.
Get started and see why with a no-risk, no-cost quote
From one East Bay business to another: you know this is how you treat your clients. It's not "just business" or "just work." It's a craft, a responsibility, and a mission.
Get started by contacting us, calling 925–595–3081, or email [email protected].