How to Choose the Best Colors When Painting Your Home Office
If you're one of the lucky people who get to work from home, you know all too well the importance of your home office. While you may have invested in larger monitors, a faster computer, and a super comfortable chair, one factor you may have forgotten is the color of your walls.
Feeling a little unmotivated throughout the workday? Wish your home office provided the ambiance you need to boost your energy and productivity?
There's no better time than now to give your office a purposeful makeover. While there are many changes you can make, start with your wall color. Choosing the right color will have a notable impact on your mood, creativity, and productivity.
While you may be dreading browsing the walls of hundreds of color swatches, have no fear! Our guide will help you choose the right color for your home office.
Why Color is Important
Nothing is as impactful in any working environment as color. It surrounds you and therefore has a great influence.
Research has continued to show that color influences mood, thoughts, and behavior. Because sight is our primary sense, we're immediately impacted by the colors, textures, and patterns that surround us. Color sets the tone for the entire day.
So how do you choose the right paint color for your home office? It all depends on the mood you want to set and what type of environment makes you most productive.
Experts agree that sticking to an entirely neutral color palette isn't the way to go. A totally neutral room can look monotonous and may promote feelings of being constricted and lacking creativity.
Adding the right pops of color throughout the space provides balance and sets the right ambiance.
Which Colors Are Best for a Home Office?
With that said, you may be wondering what the perfect color is for your home office. The good news is that there is no wrong or right color for your space.
Instead of painting your home office the same color as your neighbor or your favorite DIY home blogger, make it a personal choice. 
You also want to consider your line of work. If you're a number cruncher, a calming color like light green or blue is subtle and won't distract you. Or if you're a designer, writer, or have a job that requires creative thinking, a bright, bold color may be best.
Here's a quick guide that details how each color can impact your home office.
Red/Orange
Looking to create an energizing home office? Reds and oranges are very bold colors. The key to using them in your home office is to find a happy medium. A deep jewel-tone orange is a beautiful wall color, especially when used on an accent wall.
Deep oranges with red undertones are full of life and energy. They also look great when paired with warm whites. The right shade shouldn't be overly bright or blinding.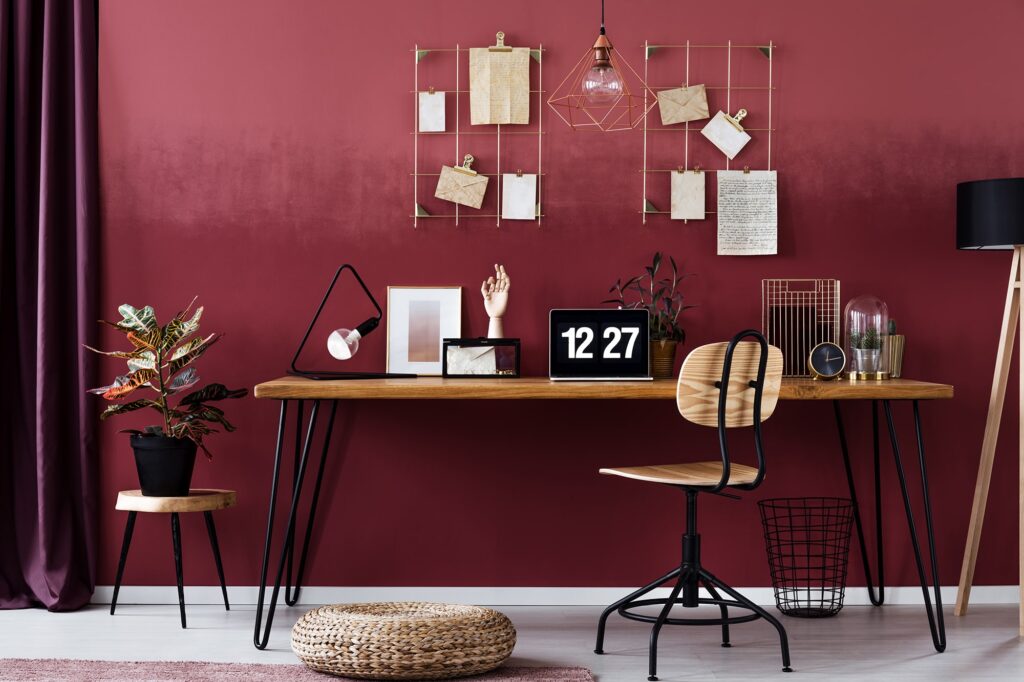 Yellow
Looking to create a home office that is full of joy and motivation? If so, yellow is a top choice. Nothing sets a positive tone like a beautiful yellow wall.
Avoid overly bright yellows. It's best to choose a yellow that has a warm gold undertone. Picking too bright of a color can be very overwhelming and may distract you throughout the day.
Warm yellows pair beautifully with black, white, and even deep blues.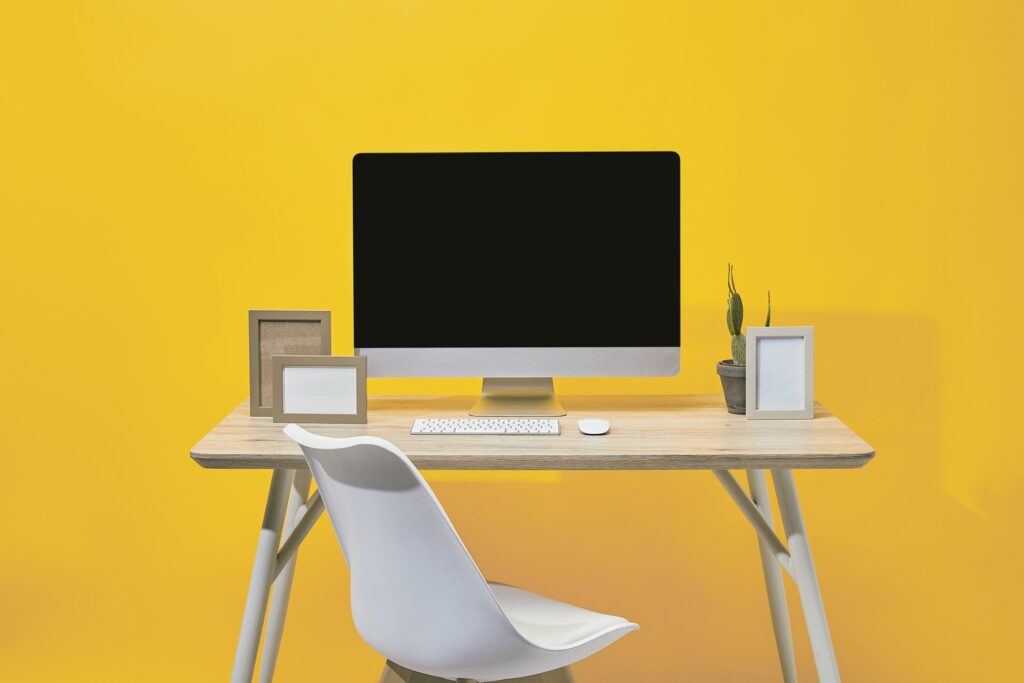 Green
Want to connect with nature? An earthy, deep green is dramatic, stately, and sets the tone for power. Green is commonly associated with money, and with a green home office, you'll have a constant reminder that your hard work is really paying off.
Brighter greens are more uplifting and fun. But bright greens can be a bit too loud if you're looking to create a space where you can think and focus.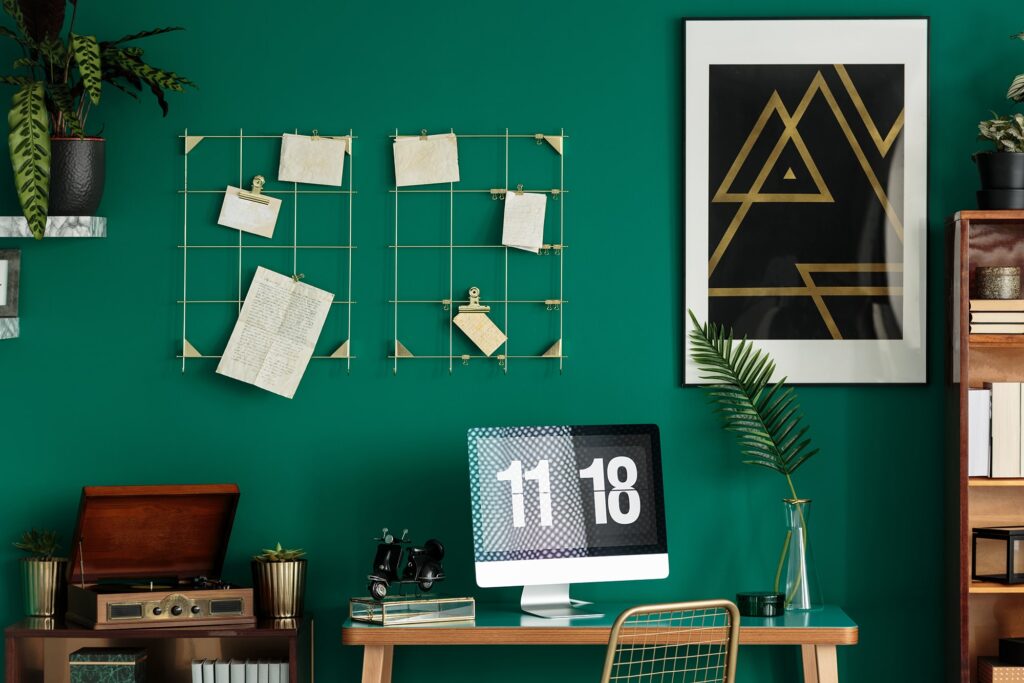 Blue
Seeking a color that you'll love for years to come? Blue is one of the most versatile colors for a home office. The blue spectrum ranges from baby blues to teals to deep navy tones. Blue has shown to be motivating while also promoting creativity. Deep blues create a regal ambiance.
On the other hand, lighter blues also have their place. Dusty or deep teal blues bring in energy and a pop of color without feeling like you're in a kindergarten classroom. Teal is motivating, inspiring, yet relaxing.
Purple
Want a home office that exudes power and calm simultaneously? The right shade of purple can promote energy and calmness at the same time. Avoid overly bright purples as they can be too bold for a home office. Dusty, warm purples are soothing and embody a sense of confidence and achievement.
Purple is also the color of royalty and creates a strong ambiance that will keep you going throughout the day. Dusty and deep purples look great with gold accents.
Warm Gray
Do you love neutral tones? Warm grays are soothing with just a hint of moodiness. These grays create a calming home office that gives pure mellow vibes. What's nice about these tones is that they lend themselves to be dressed up or down.
Want more energy and pizzazz? Bring in bright reds or oranges. Want to keep your space low-key? Accent with subtle greens and blues.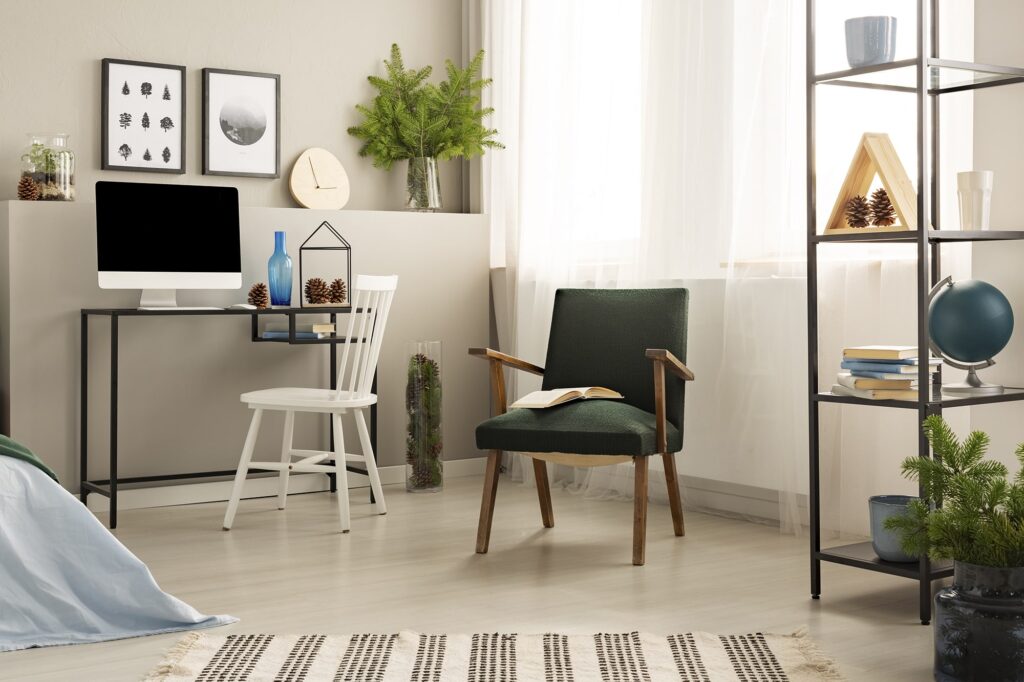 Blacks & Dark Grays
While black and dark gray may not be your first color choice, these tones are versatile, rich, and bold. Using these colors sets a moody tone that encourages deep focus and concentration.
Blacks and dark grays are very modern colors and can turn any boring home office into a fun, artsy space.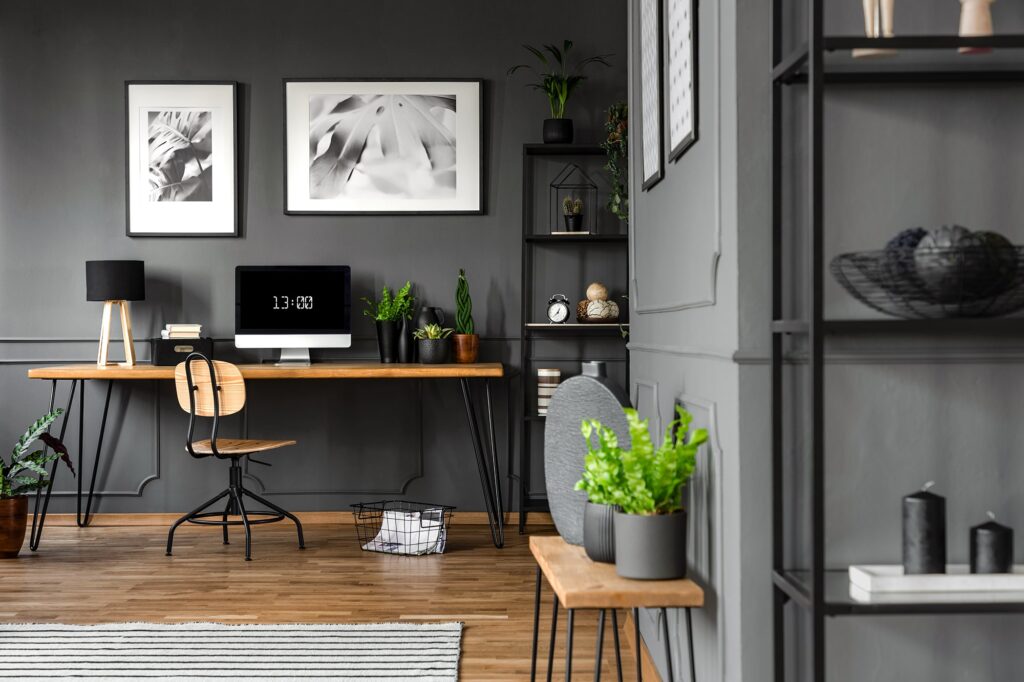 Ready to Revamp Your Home Office with a Fresh Coat of Paint?
Picking the right paint color for your home office can have a huge impact on your energy levels, mood, and productivity. Once you pick a color that will work best in your space, the next step is to tackle the hard job of painting.
Your home office deserves a quality paint job. Instead of spending days painting, why not leave it to the professionals? The team at Woodiwiss Painting is here to help.
Whether you want a colorful accent wall or your whole home office painted, you can count on us. to get the job done right. Call us today at (925) 595-3081 to receive a quote!