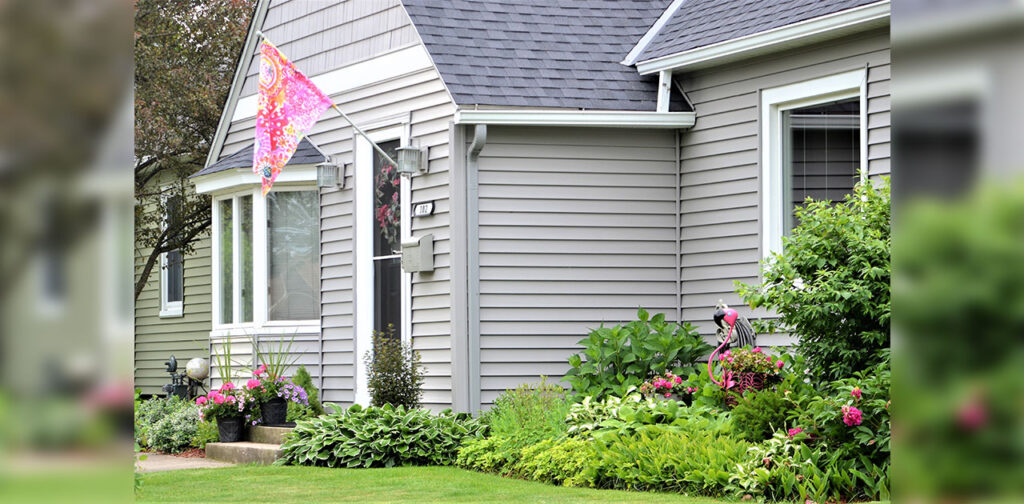 Ask Woodiwiss: Can (or should) I paint vinyl siding?
Insurance, warranties, age — and skill — are deciding factors in whether or not you should paint vinyl siding
We talk a lot on this site about how to DIY all sorts of interior and exterior paint projects. But for once, we're going to suggest you leave painting vinyl siding to professional painters. 
To properly paint vinyl siding, you need a paint sprayer and equipment like ladders and safety harnesses to get you to hard-to-reach spots. You also need to know the surfaces are prepared properly, you're using the right vinyl-safe paint, and you've taped everything correctly. 
We see a lot of DIY jobs on existing siding where paint has sprayed over masonry, bushes, and other places people never intended paint to go. And it doesn't wash off once it's there.
That said, whether you paint vinyl siding or not is more a question if you should because of manufacturer warranties. Most won't honor warranties if the vinyl siding has been painted. Some insurance companies can deny claims for painted vinyl siding, too, so check with your insurance carrier or agent to be sure. Even a wind-damaged siding claim can be denied because it was painted, or "altered".
So if you have new vinyl siding within the last few years, you should not paint it. If your vinyl siding is out of warranty and you'd like to extend its life a few years, and it's free of cracks and damage and insurance restrictions, a fresh vinyl siding paint job is a good choice. 
How old is too old for vinyl siding?
If your vinyl siding is over twenty years old, painting it is unlikely to help. Particularly in much of California, where intense heat and sun take a lot out of old siding. And if you're near the sea, salty air scratches and damages it further, making painting a lousy option. You should consider new vinyl siding instead. While you're at it, you could consider insulated vinyl siding as a worthwhile upgrade.
What colors should I consider when painting vinyl siding?
Paint color is entirely up to you (and any neighborhood covenants, depending on where you live). Most people in the East Bay Area we serve have free rein of color choices, making it more exciting and challenging to choose. 
Our paint consultants often tell people what most already suspect:
Dark colors absorb the sun's rays, which adds to heat absorption. Good insulation permanently attached to the home's exterior or insulated vinyl siding is recommended in much of California.

Some colors, like red and orange, can fade faster. Most major paint companies have created special vinyl paint that resists this fading, but the sun's UV lights are still at work with physics.

Lighter colors, like creams, whites, and yellows, can help you save money on your cooling costs since they reflect more heat from the sun. This is not, however, a significant way to save money — you won't notice hundreds of dollars of savings each month. But there is some energy efficiency with the right colors.

Your home's appearance and curb appeal matter a lot, and for many people who don't intend to sell anytime soon, it's a source of character and reflect's a person's personality. Our paint consultants can give you a curated palette of popular colors or some trending samples so you can get ahead of the neighborhood.
What are professional painters looking for when painting vinyl siding?
Before our crew begins to paint vinyl siding, we'll encourage you to check everything we've mentioned so far:
Insurance policy restrictions

Warranty claim terms

The age of the existing siding

And depending on the neighborhood or your location, any HOA covenants
Then:
We'll schedule your new coat for a period when the forecast is favorable, without being too hot or cold, and with no chance of rain for at least two or three days.

We'll help you choose the right paint for vinyl siding and the right color you love.

We'll identify damaged pieces of vinyl that need replacement. Painting vinyl siding that's damaged is going to lead to more problems later. It's best we fix it now. The most common cause of damage is rocks thrown by a lawn mower that cause a large hole or crack in the vinyl surface.
Once those matters are addressed, we'll do all the steps necessary for an exterior paint job:
When we do it, a team of 3-5 people will bring all the paint supplies and equipment they need.

We'll clean every inch of existing vinyl siding with a pressure wash and, if necessary, a soft-bristled brush in areas where vegetation or other debris has settled.

For significant buildup, like mold, we'll use a bleach mix with warm water or other cleaning solution to remove it.

We'll tape and tarp every surface that needs protecting, including driveways, shrubs, door frames, decor, and even cars that can't be parked elsewhere. 

Things that can be moved or removed, like downspouts, will be tucked aside (we can also paint those, too. They can make for a stunningly nice contrast.)

The team will apply primer and use appropriate color acrylic and urethane resins, if any, before painting any of the current siding. This gives better adherence and is critical if the existing siding has been painted once before after its original manufacture.

We always do two coats of paint. But if we're changing your exterior from light colors to darker colors, or vice versa, we may advise up to three coats. A dark color is more likely to show through a new, lighter color.

Paint application is applied consistently and evenly using sprayers and with brushes where appropriate to work around edges, roofs, and corner siding. 
Most jobs are completed in about two or three days.
Ready for your home's exterior to get an exciting new coat of paint?
Painting vinyl siding isn't necessarily hard, but it does require skill, patience, and the know-how to use all the right tools and materials. Over twenty years, we've found most people end up replacing the siding they've painted simply because the paint they applied caused more harm (either visually or structurally!) than they expected.
We can start painting vinyl siding at your home in the next several weeks, with a paint consultant arriving in just a few days. To get started, Call (925) 595-3081, email [email protected], or message us online.